RJT Excavations buys three new Doosan DA30 ADTs
08 August, 2018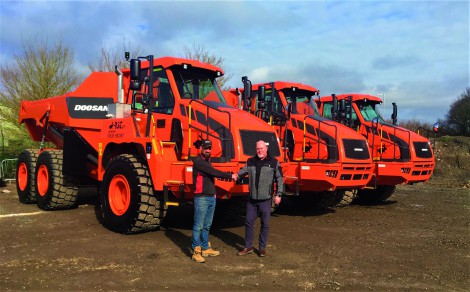 RJT Excavations Ltd. (RJT), based at Jedburgh in Scotland, has purchased three new Doosan DA30 articulated dump trucks (ADTs) from James Gordon Ltd (Gordons), the local Authorised Dealer for the Doosan construction equipment range.
Prior to placing the DA30 order, RJT's assistant plant manager Euan Heard and the site team from RJT Excavations carried out extensive trials both at Doosan's proving ground in the Czech Republic and on their site in the UK.
It is the first time RJT has purchased a Doosan product and before doing so they put the DA30 to the test, up against all the competitors in the market on the same site, in challenging and varied ground conditions matching the expected environment that they will be required to operate in.
Kim Dudley, Doosan regional manager – Northern Europe, commented: "RJT's on site team has nothing but positive feedback on the build quality, load capacity, traction in poor conditions, operator comfort, manoeuvrability and fast cycle times offered by the DA30 ADTs."
Aftersales support
Being new to the Doosan brand and to Gordons, RJT's main concern was aftersales support for breakdowns, service and parts. All of these questions were more than satisfactorily answered by Gordons and backed up by Doosan's attractive 5-year/10,000-hour warranty on the ADTs. This gave RJT the confidence in the product, support and supplier to go ahead and place this important order.
RJT carries out contracts varying in value from a few thousand pounds to over £5 million. The company provides national coverage from its main yard at Jedburgh and regional offices in Glasgow and Edinburgh in Scotland and Leeds in Yorkshire, England.
Like all Doosan ADTs, the DA30 features an articulation hinge positioned behind the turning ring to provide equal weight distribution to the front axle even during maximum steer articulation. This together with a free-swinging rear tandem bogie ensures equal distribution of weight to each wheel and guarantees permanent 6-wheel contact and drive for equal power distribution and excellent traction on difficult terrain.
Low fuel consumption
The low fuel consumption of Doosan ADTs is down to a combination of features including Scania diesel engines and a ZF EP transmission, improving the transfer of power from the engine to the wheels for outstanding traction. When this is coupled with the enhanced rear differential system which reduces engine rpm and further increases machine durability, customers are ensured of an improved cost per tonne carried with the Doosan ADT range.
---