New filling valve for large heat pumps
07 August, 2018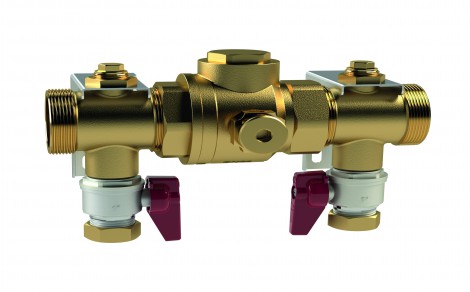 LK is launching a larger version of its MultiFill filling valve. This new model is designed for larger ground and geothermal heat pumps and has a Kvs value of no less than 40 m³/h.
New LK 521 MultiFill, designed for filling larger ground and geothermal heat pumps with heat transfer fluid. It can also be used in other applications requiring filling and filtration, such as solar panels. The large dimensions of the connections (2 inches) and the high Kvs value (40 m³/h) are distinctive features of this valve.
Lars Adolfsson, product manager at LK, commented: "As far as we know, there's no other product like it on the market. Previously, fitters themselves had to fabricate these kinds of valves for larger heat pump systems. MultiFill is an efficient and cost-effective solution that makes our customers' lives a little easier."
[subhead] Evolution
LK reports that it was the first company to launch the multifill valve back in 2001, and since then the product has undergone a number of further development stages. The new model is prepared with smart connections expansion vessels, safety groups and brackets, ensuring easy, sustainable installation.
The valve comes with a filter that provides protection against any particles during filling and operation. No maintenance is required, except for cleaning of the filter.
---