Floor problem? No problem - accept the challenge
03 August, 2018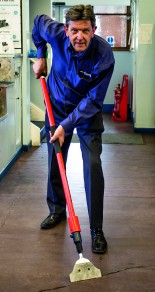 There are some jobs that no factory maintenance team or contractor is going to want, and right at the top of the list is likely to be anything that has set hard to the floor.
However, Thorite has come up with a solution in the form of the Trelawney Floor Stripper. The company comments that there is nothing subtle about this piece of equipment. A vibratory scraper blade is attached to a lance which, in turn, is attached to a suitable compressor.
Richard Vaughan, Thorite's marketing manager, is so confident of the stripper's efficacy that he has thrown open a challenge to any customer: "Challenge us to solve your factory floor issue and, if we accept, we will give you a free demonstration – and, if you choose to buy a Trelawney Floor Stripper at the time, we will reduce the price by 10%."
According to Thorite, the Trelawney isn't just a floor stripper. With a chisel attached – one of a number of different attachments – it becomes an effective lightweight demolition tool. There are some very informative videos available on the Thorite website. Click on Publications and Videos to see what the Trelawney is capable of.
---
AIR-TECH EXHIBITION


16 April, 2024, 9:30 - 18 April, 2024, 4:00




Hall 9, the NEC, Birmingham, UK

FLUID POWER & SYSTEMS EXHIBITION


16 April, 2024, 9:30 - 18 April, 2024, 4:00




Hall 9, the NEC, Birmingham, UK