The need for by-pass filtration alongside factory-fitted full-flow filters
21 March, 2017
By Katherine Carter, Environmental Technologies Group Ltd.
Most hydraulic machines are fitted with full-flow filters. These filters provide a 'safety net', protecting from catastrophic machine failure due to large particles lodging in moving parts. However, there lies a finer level of contamination that results in slow, irreparable damage to machinery, that cannot be combatted by full-flow filters.
Whilst oil may 'look clean', millions of particles smaller than 40 microns (the limit of visibility by the human eye) are contained within the oil. As these microparticles are pumped around the hydraulic system, they act like a fine sandpaper, slowly eroding the surface of parts. This soon results in reduced performance and efficiency. Over time these parts erode, before complete machine malfunction occurs, leading to costly repairs, part replacements and machine downtime.
Maintaining a constant level of clean oil via by-pass filtration can protect against this slow machine degradation and sluggish operating performance. Moreover, fitting by-pass filtration as a factory standard, will significantly prolong the lifespan of all machine components.
Figures 1 and 2 illustrate the difference between a system without effective filtration, and with CARDEV by-pass filtration. Figure 1: the grey area indicates the cumulative growth of dirt and water contamination in a hydraulic system with an ineffective (or non-existent) filtration system. Regular, expensive oil changes are required. Component wear due to contamination in the system leads to expensive and catastrophic machine malfunction. Figure 2: Factory-fitted by-pass filtration units and regular filter element changes maintain oil to a 'cleaner than new' standard. Oil wastage and component wear are significantly reduced; costs are kept at a minimum.
How clean does oil need to be?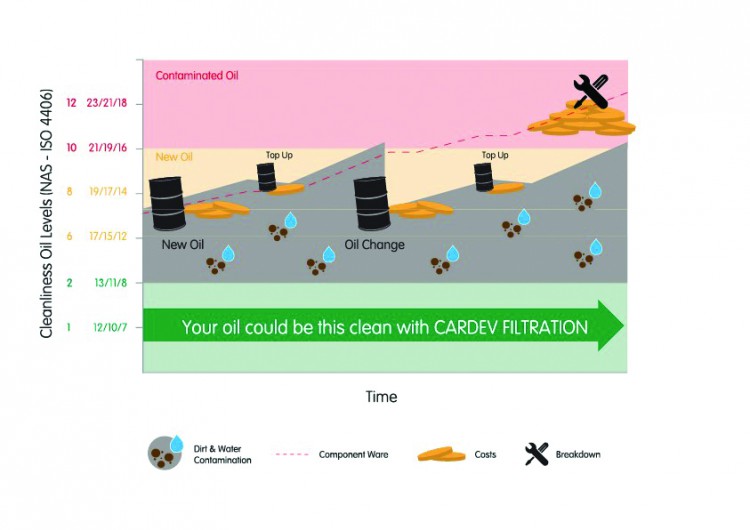 Oil cleanliness standards are often set per application or industry. For example, aerospace industries demand higher levels of cleanliness than most others. There is, however, a greater consideration than the minimum requirements of cleanliness set by manufacturers; indeed, there is a significant benefit to maintaining oil cleanliness at levels cleaner than new – straight out of the barrel – oil.
Consider a machine that runs for 24 hours a day, operating with flow rates of 100L/min. The hydraulic oil is maintained at the cleanliness of the minimum requirement for new oil using full-flow filtration (ISO 4406 code 19/17/14). In this system, pumps and other machine components encounter up to 592.1kg dirt each year within the fast full flow. Degrading the ISO cleanliness by just one code for each micron rating to 20/18/15, increases this cumulative annual dirt mass to 1184.2kg; a staggering amount of sandpaper-like contamination to be pumped through expensive and up-time critical components.
Including by-pass filtration in the machine system can significantly reduce these figures. Circulating oil flow through a depth filter, such as a CARDEV filtration unit, can clean and maintain oil at ISO cleanliness of 13/11/8. In the same scenario as described above, this reduces the annual dirt mass to just 9.5kg, demonstrating the life-prolonging benefits of by-pass alongside full-flow filtration.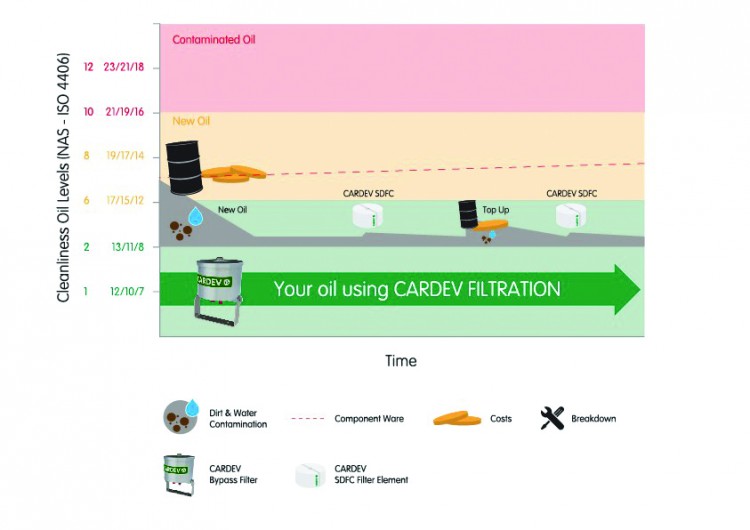 ---
AIR-TECH EXHIBITION


16 April, 2024, 9:30 - 18 April, 2024, 4:00




Hall 9, the NEC, Birmingham, UK

FLUID POWER & SYSTEMS EXHIBITION


16 April, 2024, 9:30 - 18 April, 2024, 4:00




Hall 9, the NEC, Birmingham, UK