No food loss with unique heat exchanger
27 July, 2018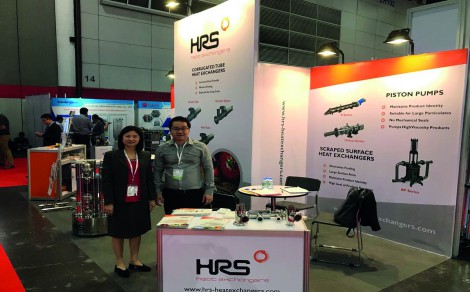 HRS Heat Exchangers shone a light on a forgotten area of food wastage at this month's Propak Asia (13-16 June, BiTEC – Bangkok international Trade & Exhibition Centre, Bangkok, Thailand) – food lost during cleaning cycles and production changes. The HRS R Series of scraped surface heat exchangers removes food residues from inside the exchanger, meaning that food factories can now recover valuable product when heating, cooling or pasteurising viscous or sticky foods.
Product losses
HRS International's sales & marketing director, Matt Hale, said: "Normally, when processing viscous food products such as honey, syrups and purées, a certain amount will adhere to surfaces, such as the inside of pipe work, or become left in equipment after processing. The value of these lost products soon adds up. For example, this issue is estimated to account for 3% of product losses in the US dairy industry."
He continued: "The R Series is particularly suitable for high value viscous products such as honey, treacle, and cooking sauces, where lost product can be expensive. We've designed the system so that the internal scraper bars can run in reverse to thoroughly empty the heat exchanger tubes and capture leftover product before changeover cycles commence."
Traditionally, flushing or so-called 'pigging systems' have been used to push product through key parts of the production system, like heat exchangers, yet both add complexity to the system and can result in high levels of product wastage. The R Series completes this process without the need for additional pumps or pressure systems, helping food factories reduce both capital and running-costs.
Scraper bar
The HRS R Series is designed with a scraper bar within each inner tube to enhance product flow, prevent fouling during operation and minimise the pressure drop. Each scraper bar features a helical screw which rotates at high speed. This screw can be run in reverse, removing product from the heat exchanger tubes without damaging it or changing its characteristics.
The R-Series can be configured for both horizontal and vertical operation, so that gravity can also be used to help recover product from the tubes. Each unit can be supplied with one, three or six tubes and multiple units can be combined for larger installations.
Globally some 5% of food loses occur during processing, although this varies according to region. In South and Southeast Asian countries the average figure is around 4% but this rises to 9% in North America. In other parts of Asia the figure is between 2% and 4%. Globally the sectors with the highest waste levels are dairy, animal and meat processing, fruit and vegetable processing and the manufacture of oils and fats.
---