Sunday Times names HRS Heat Exchangers one of Britain's fastest-growing international companies
12 April, 2019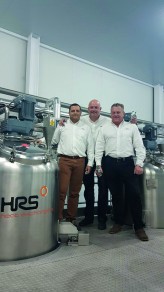 HRS Heat Exchangers has been recognised as one of the UK's top 200 fastest-growing firms for international sales.
The thermal technology specialist features in the 10th annual Sunday Times HSBC International Track 200 league table, which ranks independent UK companies according to their international sales growth over the last two years.
With a 41% international sales growth (annual average based over two years), global sales worth £20.7 million (out of total sales of £28.3 million) and 179 employees, HRS is ranked at number 161 in the prestigious league table, which has previously recognised such leading brands as Aston Martin, Specsavers, Fever-Tree and Lush.
"Reaching this top 200 table is a very proud moment for all of my team," said Steven Pither, managing director of HRS Heat Exchangers. "We've worked hard to build our international platform over many years and seeing our plan result in this kind of success is a very satisfying moment."
Image caption - from left to right: Francisco Hernandez Ortiz, technical director – food; Matt Hale, international sales and marketing director; and Steven Pither, managing director, at a customer's site in Spain.
---