MCS Hydraulics UK and Hyphose sign three-year distribution agreement
02 May, 2018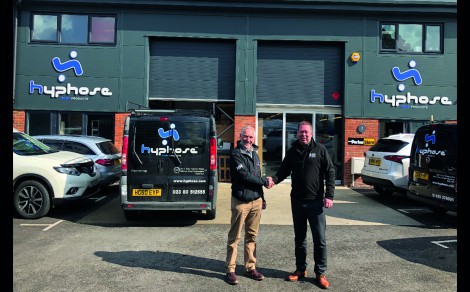 MCS Hydraulics UK Ltd., the designer and manufacturer of stainless steel couplings for flexible hoses, based in Dudley in the West Midlands, has signed a distribution agreement with Hyphose, the fluid power product supplier with branches on the South Coast of England. The three-year agreement was formally made on 22 January.
The new arrangement gives Hyphose exclusive MCS distribution rights for Dorchester, Bournemouth, Salisbury, Southampton, Guildford, Portsmouth and the Isle of Wight. MCS will supply its complete range of 316 stainless steel fittings, adaptors, Din 2353 compression fittings, mild steel fittings, mild steel adaptors, also hydraulic, PTFE and thermoplastic hose. As part of the agreement, Hyphose holds an extensive stock of MCS products ready for dispatch.
Hyphose – which has branches in Ringwood, Southampton, Poole and Portsmouth – is ideally situated geographically to supply to the offshore and marine sectors. Additionally, the company has a mobile division that predominantly serves the construction industry, and also supplies DefStan-approved hose assemblies to the MOD from its Portsmouth branch.
Strong partnership
Mick Emery, MCS Hydraulics UK's managing director, said of the new agreement: "We have been dealing with Hyphose for over a year prior to signing the official agreement. From the outset, the distributor was my first choice for the South Coast region having worked with Steve and his team in the past, and the success achieved by both MCS and Hyphose over that period made the official arrangement a highly attractive proposition. I am more than happy with the outcome and I feel we are going to continue to grow a very strong partnership together. I feel that all of the branches have a fantastic working ethos, very customer service orientated and boasting a wealth of technical knowledge, something that I recognised as soon as we began our relationship."
Emery continued: "Because Hyphose has four branches on the South Coast of England, it is perfectly positioned to serve the offshore and marine industries where our stainless steel and mild steel hydraulic fittings are in high demand. Also, the company has a fleet of mobile vans at all its depots, ready and able to serve other sectors such as construction, pharmaceutical & agricultural."
Steve Grinter, managing director of Hyphose, added: "Having MCS on-board as an additional supplier of stainless steel and mild steel hose fittings and adaptors has already proven to have delivered major benefits for us. The readily available and quickly replenished stock means we are able to deliver products to customers very quickly in precise accordance with their requirements. The products' price point has also proved to be very attractive with our client base. I have known Mick for a number of years and we have always had a strong mutual respect and understanding in terms of business and growth strategy."
---