Derek Lane & Co cements move with ParkerStore Open Day
20 October, 2017
After 11 months of flourishing business at its new premises in Heathfield Industrial Estate in Newton Abbot, fluid power solutions company Derek Lane & Co recently staged an official open day for its 'ParkerStore' trade counter.
Existing customers and local businesses were invited to have a look around the new 20,000ft² premises, learn more about certain fluid power products from exhibiting suppliers and enjoy a variety of refreshments from caterers.
Staff from Parker Hannifin were present to support the open day, providing product insight and talks on various hydraulic and pneumatic principles. The day was also supported by ABAC and ALUP UK with their air compressors and pneumatic accessories, Redashe with its hose reels and lubrication products and South Devon College with information on its apprenticeships; particularly in engineering, which Derek Lane & Co has a longstanding relationship with.
Derek Lane & Co directors Rob Woodley and Mark Venn moved the business to better-fit premises for the growing business' strategy in 2016 amid economic uncertainty brought on by the EU referendum. Fast forward 11 months and an opportunity to come up for air was capitalised with the ParkerStore launch day.
"Obviously we could have had an open day sooner, but we wanted to let the dust settle and not rush anything," said Woodley. "it's been an exciting time for change for the business; we've gained some new customers in the area whilst retaining our current customer base and the engineers are a lot busier now we have updated workshops. Being able to work on machinery and vehicles undercover has been a massive bonus and we've had some really interesting things in for service and repairs. We're confident now that we're fully moved in – a task that can take months and even years at times – so we saw it as the right time to host the open day now all the proverbial cardboard boxes had been packed away."
open day now all the proverbial cardboard boxes had been packed away."
The address of the new premises is: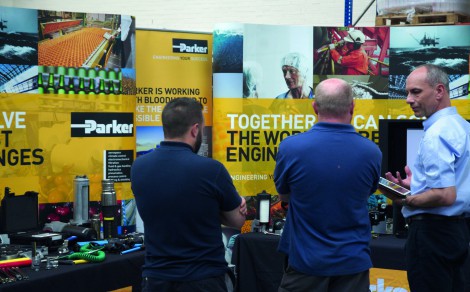 Unit 9, International House
Heathfield Industrial Estate
Battle Road
Newton Abbot, Devon
TQ12 6RY
---