Getting the most from your DIN connector selection
09 June, 2022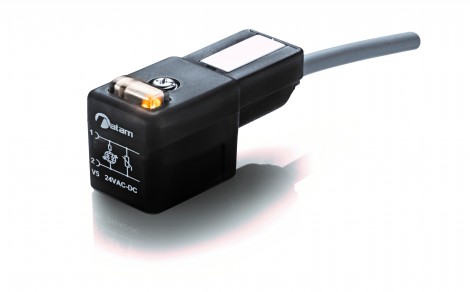 By Steve Morecroft, sales director, ATAM UK.
Industrial DIN connectors (EN175301-803, previously DIN 43650) are used in many hydraulic, pneumatic and process valve applications in industries such as rail, offhighway and medical among many others.
Many users buying and incorporating these connectors into their machine designs, may be missing out on valuable opportunities to save both time and money via their product choices. Against the backdrop of today's hyper competitive markets, there are multiple ways design engineers can extract more value from industrial DIN connectors.
Issues with manual wiring
When brought in the field wireable type (Forms A, B & C), the connector and cable need to be manually wired. The duration of that process is a clear variable depending on the skill and speed of the associated operative. The operative needs to measure and cut the cable length, disassemble the connector, wire the pins and then reassemble the connector. That's a process that will typically take several minutes, with associated costs directly dependent on the skill and dexterity of the operator, but will run into pounds, not pence.
By its very nature, the human element of the manual wiring process is always vulnerable to assembly error and the ramifications of this can be more than just purely financial. Substandard products can have a detrimental effect on the reputation of your company and may in turn cause your customers to question your reliability as a supplier, potentially jeopardising customer relationships and opening the door to your competition.
Advantages of pre-assembled connectors A solution to preventing this scenario, is to consider a pre-assembled connector, supplied complete with bespoke cable lengths, fully tested and ready to perform.
In addition to time and cost savings, pre-assembled connectors also offer a host of other advantages. With many connectors being used in harsh environments where there may be a high risk of dust or dirt ingress, pre-assembly can help protect the connector components from contamination which might impair performance.
Using pre-assembled connectors also gives the potential for improved IP rating from IP65 to IP67, and in some situations even IP69K. This is turn offers a greater array of potential uses; IP65 giving protection against for example, low pressure water jets, condensation and water spray, and IP67K offering more substantial protection against liquid ingress. IP69K offers an even greater degree of protection, as it was originally developed for road vehicles requiring regular intensive cleaning. These moisture resistant properties offer opportunities in other areas including food processing machinery and car wash systems.
Cost savings can also be enjoyed when buying the DIN connector with moulded cable as a single unit, rather than using a connector and lead sourced from different suppliers.
By removing the potential for human error, pre-assembled connectors result in better product consistency and reliability. Built in cable clamping allows higher strain performance without risk of damage. Enhanced safety is also achieved due to cable with double electrical protection insulation being used as standard, with a comprehensive range of other options also available.
Connector selector tool
ATAM UK supply industrial DIN connectors to customers with a huge range of requirements and challenging applications to satisfy.
To help customers locate the most suitable and efficient connector solution to meet their requirements, ATAM has launched a new online Selector Tool. By asking just 3 questions: What size connector do you need? What is your required cable length? What is your required LED voltage? The tool can quickly identify the best combined solution, taking away the guesswork for customers requiring product selection advice.
https://www.linkedin.com/company/atam-spa/
---
AIR-TECH EXHIBITION


16 April, 2024, 9:30 - 18 April, 2024, 4:00




Hall 9, the NEC, Birmingham, UK

FLUID POWER & SYSTEMS EXHIBITION


16 April, 2024, 9:30 - 18 April, 2024, 4:00




Hall 9, the NEC, Birmingham, UK