IO-Link supports predictive maintenance strategy with flexibility in the Industry 4.0 era
26 September, 2017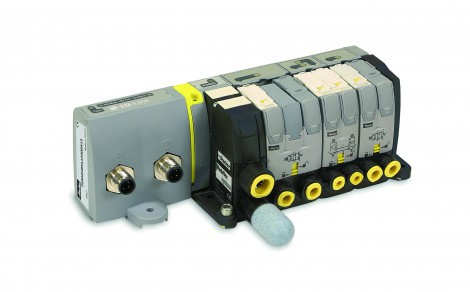 Intelligent production enables minimised downtime and optimal efficiency, writes Patrick Berdal, product manager for control devices, Parker Hannifin, Pneumatic Division Europe (pictured).
As Industry 4.0 morphs from concepts and ideas to working, real world applications, factory and production equipment is utilising indusrial networks to become more connected and intelligent. This is largely driven by the need for better performance, efficiency and productivity. The selection of a communication protocol, from both a hardware and software perspective, will also need to factor in considerations such as redundancy, flexibility / expansion and ease of implementation.
Importantly, adding intelligence to machines also gives the opportunity to implement a predictive maintenance strategy. The ability to foresee issues and then plan rather than react to maintenance needs minimises downtime and its associated costs and is extremely valuable to operators.
Smarter manufacturing plants with a predictive maintenance approach can only be achieved by collecting significant amounts of sensor data, and that data needs to be in real time. Production line versatility, which is a key benefit of smart manufacturing for companies making a number of different products, needs data to support decisions and then adjust and re-balance lines.
IO-Link emerging from the crowd
IO-Link, also known as SDCI (Single-Drop Digital Communication) is an open communications protocol that has emerged from the crowd of longer established alternatives as being a cost effective yet powerful protocol that is well aligned with Industry 4.0. It enables simple, scalable, point-to-point communications between sensors or actuators and the controller, in very simple terms it is essentially like having an industrial USB. Parker Hannifin is one of more than 130 companies in the IO-Link community which can boast over 3.5 million nodes achieved in the field to date. This is a degree of market penetration that demonstrates not only relevance to market needs, but also reliability.
Automated factory environments typically include large controller cabinets housing PLCs along with I/O cards & many I/O terminations. These provide the interface for all machine-to-machine communications. IO-Link's low cost IP67 Master blocks allow much of this to be moved out onto the machine, significantly reducing cabinet space. This is achieved by establishing communication via an IO-Link master situated closer to the point of sensing and therefore simplifying the communications and cabling arrangement.
This is at a significantly reduced cost versus using IP67 Ethernet blocks for on-machine I/O. Compared to discrete wiring, IO-Link significantly reduces the extent of wiring needed between manifolds and sensors as is the number of interconnections. This enhances overall reliability as every interconnection represents a potential point of failure or compromise in system reliability. In addition, the standard non-shielded M12 cables and connectors used in IO-Link have just three or five wires and offer many design, implementation and reliability benefits when compared to traditional 25-pin/ D-sub connectors commonly used in machine and production automation and control systems.
---