Exhibiting at Hillhead 2016
15 April, 2016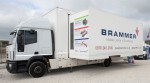 BRAMMER, a leading UK supplier of maintenance, repair and overhaul (MRO) products and services, has announced it will be showcasing its extensive range at Hillhead 2016 between 28th and 30th June.
With extensive experience supporting some of Europe's leading construction and aggregates companies, Brammer says the show will see it showcase a selection of its MRO products which can withstand the hard conditions associated with the industry, including spherical roller bearings, high performance chains, and gearboxes.
It will also be exhibiting a range of products which have been specifically designed and adapted for the aggregates and quarrying industry, including vibration screens, wireless condition monitoring systems for crushing applications, and hydraulic power units (HPU).
Click here for the full version of the release as provided by the company
---