Extended hygienic, liquid-tight conduit system range
14 November, 2023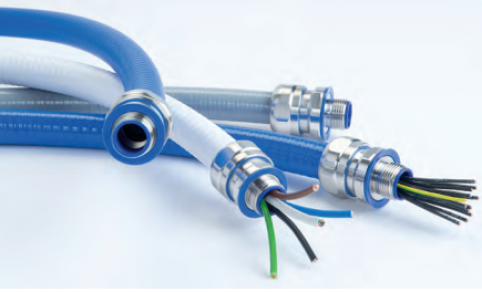 Flexible conduit manufacturer, Atkore Flexicon, has added new UL 360 rated conduit systems and fittings to its hygienic range, designed to meet the rigours of mission critical applications in the food and beverage, pharmaceutical and electronics industries.
The new offer includes the AFC UL-FG LFMC zinc coated, galvanised low carbon metallic conduit; the AFC UL-FG smooth-bore rugged PVC conduit and straight (LTP-CUL-FG) and elbow-type (LPC-CUL90-FG) hygienic fittings.
UL certification ensures that critical performance factors have been verified by the listing agency, with full transparency through the UL website and stringent periodic testing to verify that performance is maintained. This is particularly important in hygienic applications, to help minimise the risk of contamination from biological, chemical and foreign bodies.
Flexible conduit provides an inherent mechanical barrier for cabling, overcoming traditional installation challenges while delivering unrivalled product performance.
In hygienic applications, these requirements are even more important, with the need to prioritise hygienic design to prevent microorganisms from harbouring and bacteria from spreading.
There are two types of conduit systems to choose from: metallic and non-metallic. Metallic conduits offer increased compression strength and a greater operating temperature range, while non-metallic conduits deliver inherent corrosion resistance, lightweight performance and can be faster to cut and install.
In adding these new UL systems to its hygienic range, Atkore Flexicon has ensured that all these factors are met. The AFC UL-FG LFMC system is approved to UL 360 and zinc coated, with a galvanised low carbon steel strip with UL bonding and a smooth PVC cover for splash zones. The PVC jacket inhibits bacteria growth and offers ease of cleaning and sterilisation. It is available with an internal diameter ranging from 12.8 mm to 51.9 mm and an external diameter ranging from 18.1 mm to 60.4 mm.
The AFC-UL-FG has a smooth bore with a rugged, non-metallic PVC construction, also ideal for splash zones. This helps minimise the risk of contamination and is non-conductive and non-corrosive. It is available with an internal diameter ranging from 12.3 mm to 51.3 mm and an external diameter ranging from 18 mm to 60.4 mm,
The systems offer IP ratings of IP66, IP67, IP68 and IP69, when combined with Atkore Flexicon's new range of hygienic UL-listed fittings.
The fitting are designed using principles given in EN1672-2 and EN ISO 14159 and are manufactured from 316L grade stainless steel. They can operate in temperatures ranging from - 50oC to 135oC and are interchangeable with all Atkore Flexicon liquid-tight conduits manufactured to UL360 sizes.
The LPC-CUL90-FG is a stainless-steel, 90o elbow-type fitting, which can offer space saving and reduce potential bend radius. This is especially useful in panel applications where space is limited.
The LPC-CUL-FG straight fitting is suitable for threaded entries and offers high mechanical strength and corrosion resistance.
For further information please visit: www.flexicon.uk.com
https://twitter.com/FlexiconConduit
https://www.linkedin.com/company/flexicon-ltd/
---