New Electrohydrostatic Pump System (EPS) launched
07 November, 2023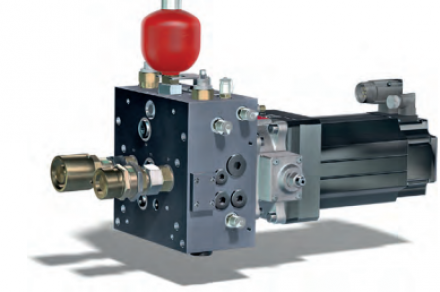 (EPS). The Moog EPS expands the existing portfolio of electrohydrostatic components and drive systems with a modular and energy-efficient drive solution with a high degree of freedom for users and operators.
The Electrohydrostatic Pump System (EPS) consists of an Electrohydrostatic Pump Unit (EPU) and a standardised manifold with hydraulic accumulator. It is offered as a complete system without an actuator and can be easily integrated into machine concepts, whether retrofit or new developments.
In terms of scope and flexibility, the EPS positions itself between Moog's EPU and Electrohydrostatic Actuation Systems (EAS), giving customers the freedom to design the system according to their needs. Different motor-pump units and power classes are offered, as well as different cooling concepts and additional features such as functional safety.
Nicolas Nitsche, senior product marketing manager at Moog commented: "The EPS was developed to facilitate the transition to high-performance and energy efficient electrohydrostatic drive concepts especially for customers with limited hydraulics expertise or engineering resources."
Optimal design of the system peripherals can reduce the size and power of electronic components thus the connected load. In combination with an intelligent energy management system, this leads to significant savings in total energy consumption in the medium to long term. Moog offers a wide range of suitable power electronics and software solutions to exploit this potential.
The standardised system is easy to maintain, highly adaptable and allows the use of existing customer components such as hydraulic cylinders. The standardised connections and components facilitate easy integration and scaling, reducing development, design and assembly times for faster time-to-market.
Moog says its Electrohydrostatic Pumping System (EPS) offers versatile application possibilities in various industries. It is suitable for die cushion systems, test and simulation platforms, metal forming and presses, hydraulic pressure intensifiers, marine and offshore applications, as well as mobile machines with hybrid or electric drive concepts. The EPS enables, for example, variable displacement with significant speed and force phases and offers high performance and robustness for demanding applications.
For further information please visit: www.moog.com/industrial
https://twitter.com/Moog_Industrial
https://www.linkedin.com/company/moog/
---