Young apprentices get tooled up
17 October, 2023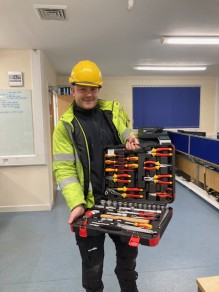 Electromechanical repair specialist, Fletcher Moorland, has launched an initiative to support the younger generation entering engineering, design, and manufacturing careers.
Under the banner Get Tooled Up, Fletcher Moorland is giving away five sets of quality tools to young apprentices and aspiring engineers every month. Since its launch, the initiative has seen the company give away tools including infrared thermometers, VDE pliers and hex key sets, from Fluke, RS components and Wera, to young engineers from across the UK.
Commenting on the initiative, Matt Fletcher, Managing Director at Fletcher Moorland, said: "Tools cost a lot of money; ask any engineer. It's particularly hard when starting out in an engineering career. You want the best tools to do your job but to get good quality equipment does cost money.
"I want to put decent tools in the hands of apprentices and young engineers from the start, and I'm committing to do this."
For young engineers to be in with a chance of winning tools that could help them as they embark on their careers, all they have to do is look out for posts on LinkedIn carrying the #GetTooledUp hashtag and then comment or hit the like button. Each month Fletcher Moorland will randomly draw from the entrants and notify the lucky winners. Anyone who wants to nominate a young person to be entered can also do so by tagging or, if they aren't on LinkedIn, nominating them on the post featuring the hashtag.
Initially, Fletcher Moorland funded the prize tools itself, but for the latest draw, the initiative has drawn support from DIY-repair specialist iFixit, which has donated five of its ProTech tool kits as the prizes for the May draw.
"I absolutely love iFixit," said Matt. "Its mission is 'To teach everyone to fix everything. Let's fix the world together,' which is a great fit for what we are doing. Many young engineers start out by taking things apart to see how they work and see if they can fix them. With its tools and its repair tutorials, iFixit is making this possible."
The following month, global industrial and mechanical tool brand, Beta, is donating the prizes, and Matt believes there is an excellent opportunity for other suppliers to support the initiative: "Brand loyalty is a powerful thing and getting tools into the hands of engineers at the beginning of their careers could see lifelong customers born. Plus, from a marketing point of view, supporting young engineers is a great story to tell."
Any tool supply companies looking to support the initiative are invited to contact Matt Fletcher directly. And any young or inspiring engineers, or their colleagues, friends, and family, to enter, simply look out for the hashtag #GetTooledUp
https://twitter.com/fletchmoorland
https://www.linkedin.com/company/fletcher-moorland-ltd/
https://twitter.com/AEMT_Updates
https://www.linkedin.com/company/the-association-of-electrical-and-mechanical-trade/
---