Ensuring best performance for hygienic application
05 October, 2023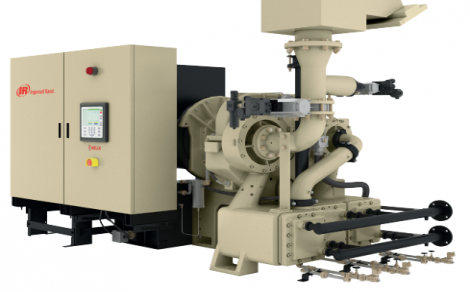 Avoiding process contamination is a necessity for any hygienic application using compressors – ranging from the food and beverage sector, to pharmaceuticals to sensitive electronic environments. Claudia Vignelli, Product Manager Plant Air Centrifugal Compressors Ingersoll Rand, explores the variety of factors to consider when selecting the most appropriate oil-free compressed air technology
There are rigorous standards in place governing compressed air performance and provision in these environments, ensuring processes remain free from contaminants, while minimising unscheduled downtime and the associated costs, too.
Traditionally, oil-free compressors have been specified to ensure high hygiene standards are maintained and to avoid the risk of product contamination – with the additional benefit of low maintenance costs, improved environmental performance and cost of ownership.
Typical oil-free air compressor types for industries requiring compressed air from 20-30 m3/min up to 100-150m3/min are screw and centrifugal technologies. But selecting between the two options requires careful consideration, taking into account multiple aspects to ensure that an appropriate system is specified.
Oil-free compressed air at-a-glance
Oil-free systems use a range of technologies that bypass the need for oil. While oil-lubricated compressors use oil in the compression chamber to cool and seal the compressed air generated, oil-free technology eliminates this risk of compressor-generated contamination while delivering guaranteed air purity.
The benefits of an oil-free compressed air system are not only limited to manufacturing high-quality, safe, and compliant products, meeting regulatory compliance requirements, and improving the life of downstream pneumatic equipment and instrumentation.
Oil-free compressors also contribute to system reliability by avoiding downtime caused by air actuators jamming, reducing maintenance costs by eliminating air/oil separation and filtration treatments, and minimising operating expense by reducing these sources of additional pressure drops.
Coupled with the unprecedented rise in energy costs, identifying the most appropriate compressed air solution that will contribute to low cost of ownership is now considered essential.
ISO 8573
ISO 8573 is a group of international standards stipulating compressed air purity and quality. ISO 8573 consists of nine separate parts, with part one identifying contamination levels that can be tolerated within a single cubic metre of compressed air. Specifically, part one identifies permitted particle count, pressure dewpoint and amount of oil allowed within this sample.
The other eight parts detail testing methods for a range of contaminants, including solid particles, oil vapour, organic solvents, microbiological contaminants, liquid water and gaseous contaminants, alongside humidity levels and aerosol content. They also ensure that air quality test results are comparable within a given tolerance of measurement.
By design, ISO 8573 is very strict and thorough. However, many decision-makers are going beyond its standards to guarantee high-quality compressed air, instead adopting the principles of the Hazard Analysis and Risk-Based Preventive Control (HARPC). This ensures facilities are complying with hygiene legislation and either eliminating any potential hazards or reducing them to an acceptable level.
---