More acts added to industrial festival's bill
21 February, 2023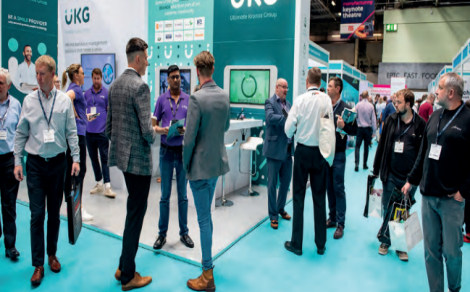 Manufacturing and Engineering Week 2023 is living up to its promise of becoming 'the festival of industrial innovation' with several extra events being added to the current programme, largely due to the addition of Smart Factory Expo and the Drives & Controls events, which include Air-Tech and Fluid Power & Systems
Haf Cennydd, portfolio director for M&E Week, says: "We see M&E Week as being a festival and as a celebration of the industrial sector. We are bringing the world's most established brands and start-ups together under one roof and presenting them on different stages and in different ways – just as Glastonbury does with its established headline acts and its new breaking act areas. We will also be showcasing creativity and presenting some things which will have our visitors say 'Well, I didn't expect to see that'."
Among the major events added for 2023 are the Sustainable Digitalisation Summit – an executive level conference for businesses with a turnover in excess of £100 million and the SME Growth Summit for businesses with a turnover below £100 million. These will run alongside a host of fringe events such as: The Manufacturer Directors' Forum Breakfasts & Dinners; The Manufacturer Top 100; The Marketing to Manufacturers Night Summit and the Exhibitor Drinks party.
Other activities continue to be announced as they are finalised and are expected to include: A Manufacturers of the Future showcase, STEM programme and more. It is encouraged to sign up for email notifications or to follow the event on social media because more details about these components will be revealed in the coming weeks.
Differentiator
A major differentiator of M&E Week is that it brings together many aspects of manufacturing and engineering – from design through to the delivery and creation of products. It covers the whole manufacturing process and the taking of products up the supply chain, as part of an OEM's final product, and then out to the consumer. Due to this wide focus, it's suitable for a manager or engineer to bring their whole team – from operations, safety, maintenance, to design and much more.
This connectivity encourages crossfunctional teams to attend together, despite the fact that they are responsible for different parts of the projects they work on. Multiple divisions, be they from a small or large business, can get value from attending because there are elements of the show that are specifically created for them. Rather than focusing on a specific vertical sector, all the content, programming and associated activities are focused on job function.
The week beginning 5 June 2023 is Manufacturing & Engineering Week with the centrepiece exhibitions Design & Engineering Expo, Drives & Controls, Smart Factory Expo and Maintec taking place at Birmingham's NEC on 7 and 8 June. Other related exhibitions are also taking place at the NEC during the week, and these include Automechanika run by Messe Frankfurt plus Med-Tech Innovation Expo and TCT 3Sixty from Rapid News Group. In addition, the centrepiece exhibitions will be surrounded by a number of related activities such as digital days, factory visits and student tours.
Momentum and focus
Cennydd concludes: "The scale of our ambition for Manufacturing & Engineering Week is that it will produce a momentum and a focus on the industrial sector that will benefit all that live and work within it. By bringing a large number of likeminded people, businesses and trade bodies together, we want to effect real change in how businesses tackle areas such as sustainability, skills, cyber security, energy, digital transformation and the supply chain - that are all current challenges for the sector. Plus, we want people to enjoy the 'festival' experience and perhaps even let their hair down a bit – just without the questionable toilet facilities and mud."
For more information visit: www.mandeweek.co.uk
https://www.linkedin.com/showcase/manufacturing-engineering-week/about/
---