CONSTRUCTION PROJECT COMPLETED
12 January, 2023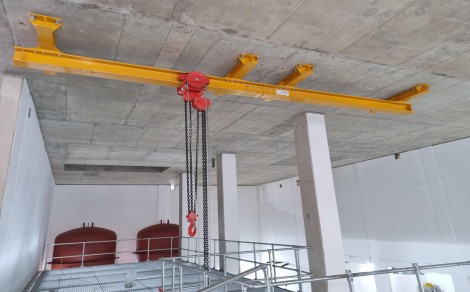 HOIST & WINCH says it has recently completed a challenging project for one of the UK's biggest construction companies involved in large-scale new home development projects. Faced with a demanding and highly technical brief, Hoist & Winch rose to the task, providing a turnkey lifting system solution to ensure complete success for its client.
The requirement was to install a concrete ceiling mounted 7.5t swl (safe working load) lifting beam and manual chain hoist into the basement energy room of a large new tower block. This development is part of a large-scale prestigious regeneration project providing 5500 sustainable new homes in North London.
At the design stage, following formal tender and contract award, Hoist & Winch set about identifying the optimal solution. Due to restricted access into the basement area, the company decided to utilise a two-piece lifting beam design with an overall length of 7m. To join the two lifting beam sections, Hoist & Winch designed a central splice joint of bolted construction with a reinforced bottom beam flange.
In order to spread the lifting loads over a greater area of the concrete ceiling slab it was decided to mount the lifting beam via four intermediate cross members, each having a four-bolt/anchor fix into the concrete ceiling at both ends. Featuring a robust bolted construction design it was possible to deliver the lifting beam to site in fully dismantled form for ease of transportation and access.
Click here for the full release
t: 08450 171126
e: sales@hoistandwinch.co.uk
---