Ingersoll Rand opens new central compressor stores to ease supply chain issues
19 December, 2022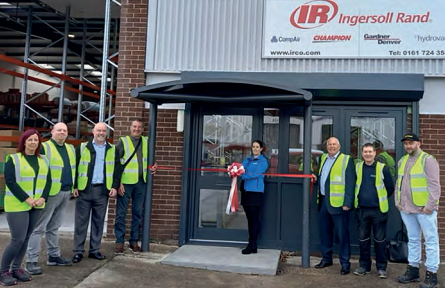 Ingersoll Rand has opened a new, 13,500ft2 central warehouse in Manchester, making it the only provider in the UK to hold stocks of complete compressed air systems, including compressors, downstream and ancillary equipment.
The new stores, which will stock up to 1000 compressors at any one time, were opened earlier this month, in response to industry demand for faster lead-times.
Major impacts
Martin Wardle, aftermarket manager UK and Ireland at Ingersoll Rand, who oversaw the development of the warehouse, says: "The combination of Brexit, the Coronavirus pandemic and the Ukraine crisis have all impacted on supply chains Manufacturing customers have faced difficulties in sourcing the equipment and components they require to maintain production output.
"The opening of our new central stores in Manchester is a direct response to these customer concerns. Using data supplied by our industry trade body, the British Compressed Air Society, we now stock the most commonly specified kilowatt sizes of compressed air equipment, available to our entire sales distribution network to help fulfil orders in the UK and Ireland quickly and efficiently.
"Included in our stock lines are machines from our CompAir, Hydrovane, Gardner Denver and Champion ranges. We check our stock profile each day, so our sales network has access to live data and, we are also able to react quickly to changing demand, bringing in additional stock to help fulfil orders."
Maximised storage space
Orders received for stock items before lunchtime can be despatched for nextday delivery across the majority of the UK. The new warehouse also benefits from the latest forklift truck technology. An innovative articulated truck that can navigate narrow aisles, alongside a narrow aisle forklift truck has enabled Ingersoll Rand to install more racking in a smaller space, enabling the team to maximise storage space and stock more compressed air system components.
Commenting on the launch of the new warehouse, Colin Mander, strategic business line director and Northern Europe Compressor lead at Ingersoll Rand, says: "Despite the economic downturn, demand for compressed air systems has showed no signs of slowing. Investing in new, energyefficient systems and ancillaries at a time when the wholesale price of electricity is at a record high is a key driver for customers looking to replace or upgrade their compressed air provision.
"Put simply, customers cannot afford to wait to be able to reap these rewards, which is why we have opened these new central stores to help mitigate the risk of long lead times. The stores have only been open a matter of days and already we are shipping orders to our distribution network to help fulfil this demand."
Customers wishing to place compressed air system orders should contact their Ingersoll Rand distribution partner who will be able to advise on lead times.
https://www.linkedin.com/company/ingersoll-rand/
https://twitter.com/irproducts
---