Pure strength: The SC 12 i 370-ton workshop crimper from Uniflex
15 September, 2022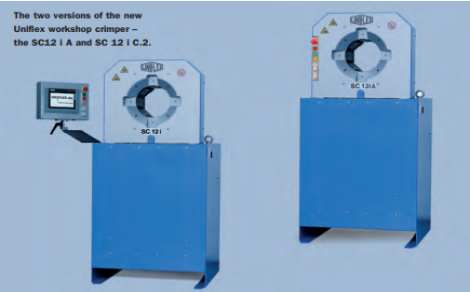 With a crimping force of 370 tons, Uniflex's new SC12 i is claimed by the company to be the most powerful workshop crimper for R15 industrial hoses up to 3" and high pressure hoses up to 1".
With its large opening and a maximum crimping range of up to 139 mm (5.47"), the SC 12 i can also crimp 4" Camlock industrial fittings and even 90-degree fittings with a long or short arm with ease. According to Uniflex, a crimp force of 370 tons in a compact workshop crimper has never been available before.
Direct access from all sides
The compact 4-cylinder design allows direct access from all sides, which is particularly important when crimping workpieces that are short on one side. Measuring 690 x 750 x 1479 mm (LxWxH), the crimper is designed to fit into every hose workshop, despite a dead weight of 553 kg (without control/display). Two versions of the SC 12 i are available, the SC12 i A with a micrometer and Control A and the SC12 i C.2 with the Windows-based Control C.2 and 7" touch panel with colour display or IPC. The large opening path enables easy crimping of elbow fittings without the need to remove the crimping dies. Like all Uniflex crimpers, the SC 12 i also features the lubrication-free Uniflex slide bearing technology for maximum cleanliness and consistent operations as well as minimum wear and maintenance requirements.
Wide range of accessories
A wide range of accessories, from different sets of dies and the QDC 239.5 quick change system to an optional double foot pedal, a mirror and a clamp lamp as well as different storage and holding metal sheets for the various die sets, ensures easy operation of the machine with a large number of assistive functions.
Full 3-year manufacturer`s warranty
Uniflex grants a full 3-year manufacturer`s warranty on both versions of the SC12 i. Uniflex comments that with proper maintenance and careful handling, the owners of Uniflex devices can benefit from decades of service life of their investments. Uniflex adds that its machines – with their rare need for repair due to the proven slide bearing technology – not only stand for 'The best Return on Investment' but also for CO2- conscious investments. The new crimper is available in the UK from Abdex.
https://www.linkedin.com/company/uniflex-hydraulik-gmbh/
https://www.linkedin.com/company/abdex-hose-&-couplings-ltd/
---