Talking Industry podcast – The Benefits of Digitalisation in Manufacturing (PT1) now available
09 August, 2022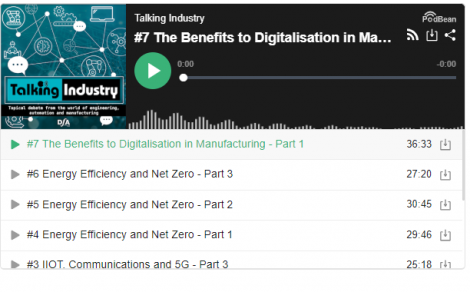 Part one of the latest Talking Industry podcast – The Benefits of Digitalisation in Manufacturing is now available.
Expert speakers include: Tony Coghlan (Turck Banner Ltd), Thomas Schardt (Nidec Motor Corporation), Michaël Lefeuvre (Red Lion Controls), Line Vaes (Priority Software), and hosted by Talking Industry's Andy Pye.
The podcast discusses the reasons why despite an increasing number of enterprise companies and some SMEs are adopting digitally transformative technology, the UK continues to fall behind other nations, including the US and Germany. The speakers also talk about what can be done to further evangelise the benefits of digitally transformative concepts to improve efficiency and competitive perspective. Other important messages focus on how can clearer definitions concepts – like IIoT, Industry 4.0 Smart Factory, Digital Twins, Machine Learning, Analytics and AI – can be promoted more clearly.
---