Smart inclination sensors for mobile machines
14 July, 2022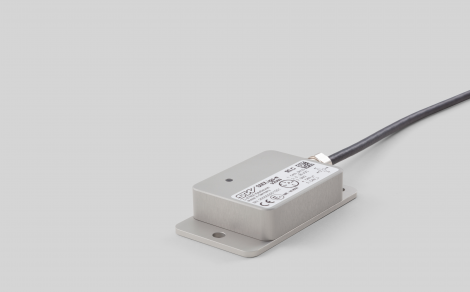 Sensor-Technik Wiedemann GmbH (STW) is making its SMX.igs-e inclination sensors even smarter. They now have Inertial Measurement Unit (IMU) functionality and enable sensor data fusion with Kalman filters.
Sensors have long since ceased to be pure data acquisition devices. Preprocessing of the acquired measurements is becoming more and more common in order to keep the amount of data on the machine network low and to reduce the processing load on the central control system. For these same reasons, STW has expanded the functional scope of its SMX.igs-e inclinometer and gyro-sensor family. Typical applications of the SMX.igs sensors include determining the position of an excavator bucket, leveling machines and their attachments, and ensuring the stability of vehicles with extended booms.
The functionality of an Inertial Measurement Unit (IMU) is now available to STW customers. The accelerations and rotation rates in all three spatial axes are measured and output. Based on these measured values, one-dimensional or two-dimensional inclination values are calculated and output in 360 degree or ±90 degree ranges. The disturbances caused by dynamic influences or parasitic accelerations, such as movement, shock and vibration, which occur in all mobile applications, but especially in off-highway machines, influence the measurement results. To improve the stability of the calculated value in the presence of dynamic influences, various configurable filter algorithms are available to the user depending on the sensor type.
Optimal settings
The user can select the optimal settings and the best possible characteristics for the application from various filter types. The SMX.igs-e is part of the STW modular sensor family for mobile hydraulics. This family offers a comprehensive product range for measuring and recording physical variables such as temperature, pressure, strain, inclination and angular velocity. In mobile machines, the output values are used, among other things, to monitor and control the drive, the work function or energy management. They can also be made available on the Internet using onboard software and cloud solutions from STW, e.g. for predictive maintenance measures. STW sensors are characterised by their resilience and durability.
https://twitter.com/sensor_technik
https://www.linkedin.com/company/sensor-technik-wiedemann-gmbh/
---
AIR-TECH EXHIBITION


16 April, 2024, 9:30 - 18 April, 2024, 4:00




Hall 9, the NEC, Birmingham, UK

FLUID POWER & SYSTEMS EXHIBITION


16 April, 2024, 9:30 - 18 April, 2024, 4:00




Hall 9, the NEC, Birmingham, UK