Hydroscand's HoseExpress mobile hose team goes fully digital
05 July, 2022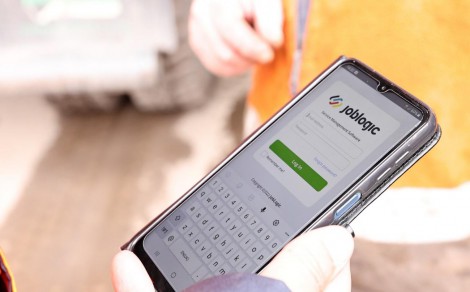 Hydroscand UK has rolled out a fully digital solution for its HoseExpress mobile hose technicians across the UK. This follows the company's trials of multiple software providers conducted during 2021.
Until recently, HoseExpress technicians completed site risk assessments and job sheets on paper. Hydroscand UK comments that this system worked well for its customers for many years. However, digitalisation is a key part of both Hydroscand Group and Hydroscand UK's business strategy. This is because we are always customer driven and aim to provide innovative services and solutions.
Joblogic
Rebecca Galley, Hydroscand UK's managing director, states that digitalisation will facilitate process improvements, increase speed and accuracy of transactions and reduce admin time. "So, based on feedback from customers and team members, and with more solutions now readily available in the market, we decided to move to a digital solution for our mobile hose repair service," she says. "Towards the end of 2021, we started working to find a suitable application to manage our HoseExpress job sheets. Joblogic was one of three systems we reviewed in detail."
Jason Bray, HoseExpress development manager and Josh Legg, mobile hose technician in Southampton tested the system and based on their positive experience the company decided to go ahead. Joblogic is well established in the UK and has over 4000 current users.
"This is a very exciting step for us and the investment demonstrates our commitment to finding customer focused digital solutions," continues Galley. "We decided to provide new mobile phones for our technicians to support the use of the software. As well as that, we have invested in the software itself and training to support the teams in getting going with the new way of working."
Improved customer experience
Despite the initial outlay and ongoing fees, Hydroscand UK believes the system be cost effective very quickly because of the time saved handling paperwork and the increased accuracy and traceability offered by having a digital system. Hydroscand UK will also be able to gather real time data, which it will use over time to refine the company's service and improve its customers' experience, which is its main aim.
The new solution will provide customers with a system that enables them to request jobs directly, track the technician's progress and review history of the jobs we have completed. Should customers require, an automatic message can be sent by SMS or email letting them know when Hydroscand UK technicians are travelling, on site and leaving site. A risk assessment for every job the company attends and 'before' and 'after' photographs of the work carried out will also be available to download directly.
"Alongside the benefits for our customers and for Hydroscand, we believe the system will provide a better experience for our team members," says Galley. "Several of our technicians were used to working in this way from previous employment and expect to have a digital application. As the workforce changes and more millennials and so-called digital natives join our teams, this expectation will only increase. Professional, safety focussed and paperless solutions will be one of many aspects to consider in attracting and retaining team members. So far, adoption has been good amongst the team, with feedback positive and constructive."
Galley concludes: "We are very pleased with the system so far and are looking forward to inviting customers to log in directly in the coming weeks. If you would like any further information about our HoseExpress hose replacement service or would like to request a login, please contact your local Hydroscand branch team, who will be happy to help."
https://www.linkedin.com/company/hydroscand-uk/
---
AIR-TECH EXHIBITION


16 April, 2024, 9:30 - 18 April, 2024, 4:00




Hall 9, the NEC, Birmingham, UK

FLUID POWER & SYSTEMS EXHIBITION


16 April, 2024, 9:30 - 18 April, 2024, 4:00




Hall 9, the NEC, Birmingham, UK