Filtertechnik introduces the all-new Particle Pal Plus
26 May, 2022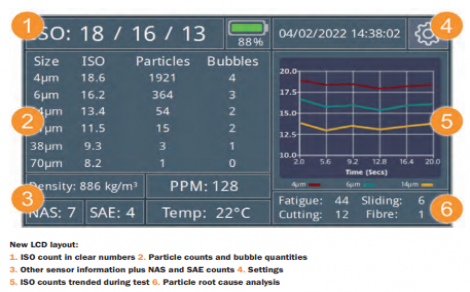 Filtertechnik has launched the all-new series Particle Pal Plus units, which utilise digital imaging particle count technology to eliminate issues associated with laser particle counters such as counting bubbles and phantom particles/oil additives as contamination.
The Particle Pal Plus is easy to operate, requires a low oil volume and builds on the experience of the Particle Pal Pro models. There are 2 models in the range to handle medium or high viscosities. All models can have water or viscosity & density sensors added depending on requirements. All units are rugged and self-contained with rechargeable batteries and are supplied with all the necessary ancillaries to get testing straight away.
Digital imaging particle counting works by capturing images at 4 frames-persecond at a very high resolution, recognising anything that is 2 microns and above. Advanced in-built technology sorts particles by size and shape giving root cause analysis. An additional benefit is that the camera recognises air bubbles and eliminates them from ISO counts.
A new touch screen LCD is easy to use and operate meaning an engineer can take counts quickly and effectively. 2 versions are available, up to 400cSt or 2400cSt viscosity oils. The 400cSt version is in a compact case with a 4.3" LCD touchscreen display, the 2400cSt version is in a larger case and has a purpose-built stepper motor pump to handle high viscosities. This unit has a 7" LCD touchscreen display.
Both models draw oil through the sensors rather than pushing it, which reduces the potential for in-built bubble formation due to pump cavitation. Both versions can have other sensors added to increase functionality. Water sensors both % Saturation (%RH Relative Humidity) and PPM (Parts per million) can be specified. Viscosity and density sensors can also be added.
Data is stored on the device for reporting/archiving, and software is supplied with each Particle Pal Plus to extract data via a USB connection. This can be used to store tests over time, create graphical reports etc.
Digital imaging vs laser counting
A Digital Imaging particle counter is at the heart of the new Particle Pal Plus units. Filtertechnik comments that this counter has a wider field of view than laser counters, which allows higher viscosities to pass through and reduces the potential for cavitation. The on-board technology counts the size and quantity of all particles for the ISO/NAS/SAE categories as well as categorising by shape for root cause analysis. Another major benefit is that air bubbles are recognised and removed from the ISO counts.
Laser particle counters see air bubbles and anti-foaming Siloxane based additives as particles resulting in higher readings, often 2 to 3 ISO codes higher. The digital imaging technology in the Particle Pal Plus ignores these air bubbles and Siloxane additives and only counts solid particulate. The main benefits of digital imaging particle counters are:
The size and quantity of particulates are calculated immediately. ISO, NAS and SAE cleanliness codes and full particle counts in the: 4, 6, 14, 21, 38, 70 and >100 micron ranges are all counted and reported.
Air bubble elimination and shape recognition offers root cause particle analysis. Particles are categorised as Sliding, Cutting and Fatigue wear plus fibres. Air Bubbles are also counted and reported.
https://twitter.com/FiltertechnikUK
https://www.linkedin.com/company/filtertechnik/
---
AIR-TECH EXHIBITION


16 April, 2024, 9:30 - 18 April, 2024, 4:00




Hall 9, the NEC, Birmingham, UK

FLUID POWER & SYSTEMS EXHIBITION


16 April, 2024, 9:30 - 18 April, 2024, 4:00




Hall 9, the NEC, Birmingham, UK