Fluid Power & Systems and Air-Tech 2022 pack a punch after unprecedented challenges
16 May, 2022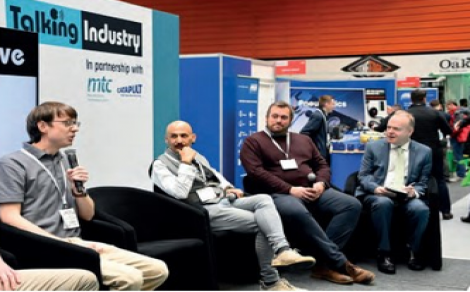 "The ability to showcase new technology and innovation in person were fundamental to the success of our attendance. Having quality visitors and substantial new business enquiries shows that there is a place for industry-focused exhibitions even after such a long break." – Craig Bastable, Hayley Group Ltd
"2022 has been a great success. The variety of visitors from such different industry sectors made it a fantastic show for us. We are very pleased with the prospects generated and look forward to returning to Fluid Power & Systems in 2024" – Zoë Fearnley, the Ashton Group
"After a couple of years of uncertainty, it was good to be back at Fluid Power & Systems 2022, and yet again it has proven its worth. Under one roof we were able to re-engage and develop with many of our existing customers and also to exhibit our range of products and services to new business." – Darryl Spencer, NERO Pipeline Connections Ltd
"Despite Covid affecting both exhibitors and visitors, it was good to catch up with customers, suppliers and potential new clients after a 2-year delay. This was the first time AB Components exhibited at the show and it was definitely worthwhile." – James Edgar, AB Components
Air-Tech 2022
"We attracted many quality visitors to our stand at Air-Tech 2022 with several positive lines of enquiry throughout the event. The exhibition was a fantastic opportunity for us to promote the Sullair brand and reconnect with so many of our UK and European distributors and prospective end customers once again." – Marie Kerrelle, channel, aftermarket & marketing manager (EMEA & CIS), Sullair, LLC, A Hitachi Group Company
"Air-Tech 2022 was livelier than many of us could have imagined, which is a good indication that the British economy is recovering pretty well. We are confident that the compressed air industry will experience a boom there. At the show, many of the interested visitors were enthusiastic about our new developments, improvements and innovations." – Florian Buchner, CS Instruments
"In uncertain times, it was great to see a good number of genuine visitors to our stand. Having had the 2020 and 2021 show postponed, people were eager to see the SCR machines and meet the team. We'll be booking for 2024, that's for sure," – Nigel Cook, SCR Air Ltd
"Air-tech 2022 provided Prevost with a platform to present our innovative products to many potential & existing customers under one roof. It also enabled us to continue the development of our brand within the UK & Irish fluid power markets. The show exceeded our prior expectations, confirming that our participation at the next show in 2024 show is guaranteed." – Richard Maulkinson, Prevost.
"We were delighted to be finally back face-to-face meeting with industry colleagues, distributors, suppliers and end users of our products at Air-Tech 2022. The show had a great energy, attracted quality visitors and as a result we have plenty of encouraging leads to follow up." – Matthew Butters, Pneumatic Components Ltd
"ATC (Italia) took part for the first time at Fluid Power and Systems. This was an important opportunity to meet partners and present our brand and products to new companies interested in AirTAC International Group and pneumatic components. This show has been a success. We would like to thank all our visitors, and we are looking forward to establishing a collaborative and concrete professional relationship with them in the months to come." – Tania Lardo, AirTAC International Group/ATC (Italia) S.r.l.
"PDM Analysis Ltd exhibited for the first time on Air-Tech this year. Despite lower-than-expected overall number of visitors, the position of our stand was excellent, which helped us to have a good number of visitors passing by the stand and interacting with us. The support form administrative and technical staff of Air-Tech was exceptional, and we are thankful for the opportunity to present our company at this important event." – Ahmed Kovacevic, PDM Analysis Ltd
"After two years into the pandemic, taking part in Air-Tech 2022 in Birmingham was a positive experience for us at Teseo. We think that resuming trade fairs in person is an encouraging sign of recovery for the whole industry. Indeed, it was great to meet up in person again with our dealers and long-standing customers. In addition, we are happy with the number of new contacts we made in this edition. We look forward to finding out more about Air-Tech 2024." – Paolo Nardi, Teseo Srl
www.fluidpowersystems-expo.com
---
AIR-TECH EXHIBITION


16 April, 2024, 9:30 - 18 April, 2024, 4:00




Hall 9, the NEC, Birmingham, UK

FLUID POWER & SYSTEMS EXHIBITION


16 April, 2024, 9:30 - 18 April, 2024, 4:00




Hall 9, the NEC, Birmingham, UK