Fluid Power & Systems and Air-Tech 2022 pack a punch after unprecedented challenges
16 May, 2022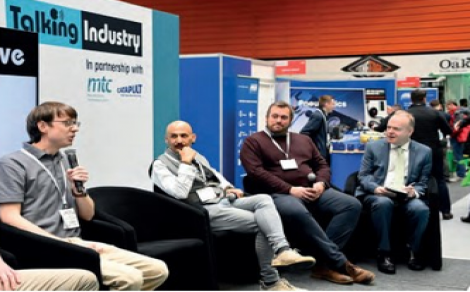 The Talking Industry Live
This year's event also saw the popular Talking Industry webinar events move temporarily from the digital sphere to live panel discussions under the Talking Industry Live brand during the three days of the shows. As with the Knowledge Hub, many of the sessions covered the digitalisation theme in various contexts. One example was a panel discussion chaired by Paul Cooke, interim CEO at the British Fluid Power Association (BFPA), which covered the topic of Fluid Power and the Factory of the Future. To open the session, Cooke explained that, like traditional factories, the future factory will have four walls, the floor and the roof. However, everything else will be flexible. "All the production and assembly machinery will be smart, connected, configurable and fully automated," he said. "Moreover, in this factory of the future will be the next generation of production and maintenance managers and engineers. These people have been brought up in our digital world and are used to getting what they need using their smart devices."
Leading associations support our industry
As usual, many of our industry's leading associations were in residence, supporting the event and their membership. The British Fluid Power Association (BFPA) promoted a range of services to both members and other industry stakeholders, including its range of training courses. The Association's Distributor Zone at Fluid Power & Systems 2022 was a popular focus for distributor members, including Approved Hydraulics, Hopespare and Magnet Schultz who were on hand to promote their products and services. The British Compressed Air Society (BCAS) utilised Air-Tech is an ideal opportunity to keep members and visitors up to date with all the latest developments in our industry. BCAS views the show as the perfect opportunity to engage with manufacturers, distributors and end users alike, and for the Society to provide impartial advice about legislation, standards and technical issues. The British Valve & Actuator Association (BVAA) exhibited at Fluid Power & Systems, introducing visitors to the Association's many members comprising suppliers, users and customers of the fluid power industry and its products. The BVAA also advised visitors of the many products and services available from membership.
Major announcements
Many companies took advantage of the shows to unveil new products, initiatives or partnerships. One such announcement at Fluid Power & Systems was that Steve 'Baggsy' Biagioni, the Champion Drift driver, has recently signed a further two-year deal with the global, hydraulic components manufacturer Stauff. As a very welcome bonus, Stauff requested that the car and Baggsy could be present to make the announcement. The Nissan GT-R, with 1500 horsepower took centre stage at the entrance to the exhibition. Stauff champions several motor sports teams and enjoys being part of these top athletes' development. In turn, the drivers and riders highlight exposure of the premier brand with their role as Stauff Sporting Ambassadors.
Some companies took the opportunity to launch their new catalogues at the exhibition and even unveil their new ecommerce websites – a trend that is fast growing much needed momentum in our industry. A few companies also began celebrations for milestone anniversary years. As an example, Tom Parker Ltd launched its 2022-2023 product catalogue, unveiled its enhanced user-friendly ecommerce website and also celebrated its 50th anniversary on its stand. To help mark this milestone the company was also a primary sponsor of Fluid Power & Systems 2022.
---
AIR-TECH EXHIBITION


16 April, 2024, 9:30 - 18 April, 2024, 4:00




Hall 9, the NEC, Birmingham, UK

FLUID POWER & SYSTEMS EXHIBITION


16 April, 2024, 9:30 - 18 April, 2024, 4:00




Hall 9, the NEC, Birmingham, UK