MP Filtri patch imaging kit with digital particle inspection
10 May, 2022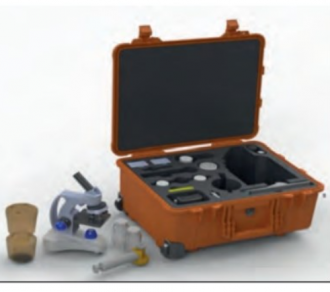 MP Filtri is about to add a new Patch Imaging Kit to its range of state-of-the-art Contamination Monitoring products.
Designed as the perfect complement to MP Filtri's portable and inline particle counters which offer a highly accurate, real-time inspection of contaminants in fluids, the new Patch Imaging Kit inlcudes a digital microscope that enables operators to assess these particles under a microscope and identify potential sources of contamination.
The kit enables fast and accurate fluid sample tests, and by capturing the contaminants on a patch, allows detailed analysis to be carried through the digital microscope included in the package – measuring, recording and assessing individual particles.
By analysing their make-up and composition, it is possible to isolate the cause of wear and tear within a system – with rubber particles suggesting hose decomposition, while metal elements reveal wear and tear on pumps or components.
By flagging up specific causes of decomposition, maintenance teams can replace worn components, protecting complex systems, extending service lifespans and reducing both maintenance costs and downtime.
Key features and benefits of the new Patch Imaging Kit include:
• High-performance digital microscope, offering magnification up to 400x
• Sophisticated software enabling the measurement and analysis of individual particles
• Full patch testing kit apparatus making it easy to take samples quickly and accurately
• Windows-based software for problem-free installation onto PCs and laptops
• Easy to master without the need for formal training
• Heavy-duty Peli-case and laser-cut foam surround for maximum protection and portability
• Simple, step-by-step instructional videos
MP Filtri UK Ltd product manager Geoff Grant says: "This new kit enables precision assessment of individual contaminants and alongside the latest generation of particle counters, can play a key role in boosting any company's contamination control strategy."
MP Filtri offers a premium selection of cutting-edge contamination control products as well as a comprehensive range of hydraulic filters and accessories. The Patch Imaging Kit will be available from June.
https://www.linkedin.com/company/mp-filtri-uk-ltd/
---