Braking system helps Indian port crane keep materials flowing
07 April, 2022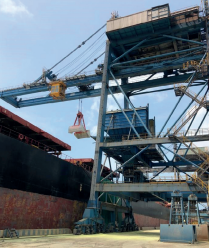 Port cranes have a difficult and demanding job, unloading thousands of tons of goods from ships around the clock. This is particularly true of a TRF Limited grab and loader crane operating at Paradip Port on the East Coast of India. The crane helps to supply raw materials to one of the largest fertiliser and chemical manufacturing facilities in India. To ensure reliable braking performance for the crane, TRF approached Stromag to provide a complete system package.
Crane needed
The Indian Farmers Fertiliser Cooperative Limited (IFFCO) operates the manufacturing facility in Paradip. Founded in October 2005, the plant produces 2 million tons of fertiliser every year as well as 7,000 tons of sulphuric acid and 2,650 tons of phosphoric acid daily. These largescale operations require a vast amount of raw materials, which are delivered by ship via the deep seaport at Paradip. When IFFCO took over the plant, it was clear a large port crane was required to ensure efficient offloading of the raw materials.
TRF Limited, a TATA enterprise which manufactures a range of handling and processing equipment for multiple industries, was approached by IFFCO to deliver the crane. TRF commissioned Stromag in India to provide a suitable braking system for the hoist and clamping mechanisms.
Stromag is a global manufacturer of braking systems for a wide variety of crane designs, with its systems operational on port cranes worldwide. A leading brand of Altra Industrial Motion Corp., Stromag can deliver complete braking system packages. The business has a proven track record working with crane OEMs, which ensured it could deliver brakes exactly to the TRF specification.
Safeguarding crane uptime Akshay Gore, senior engineer customer care & sales at Stromag, explains: "The crane was designed to provide an unloading capacity of up to 1,500 tons per hour. To achieve the quantities required by IFFCO, the crane operates between 18 to 24 hours a day. Of course, this means that our braking system needs to provide exceptional reliability.
"Crane downtime is very undesirable for IFFCO. Any pause in unloading reduces the supply of raw materials to the plant, compromising productivity. A failure in the braking system due to it not opening or closing could result in a 5-hour repair at the very minimum. At Paradip, this translates to around 7,500 tons of lost raw material supply. Furthermore, extra costs would be due to ship operators for any delays; valued on an hourly basis. This would be on top of the cost of carrying out maintenance work."
Putting the brakes on
To support the hoisting and clamping mechanism, Stromag provided TRF with 1TX-A and 3TB-R spring applied, hydraulically released calliper brakes – both Type T service brake variants. These were combined with two types of SVK400 disc couplings, one with a 705 mm diameter disc and another with a 550 mm diameter.
---