BCAS announces the first Compressed Air and Vacuum Technician Apprentice during NAW22
04 April, 2022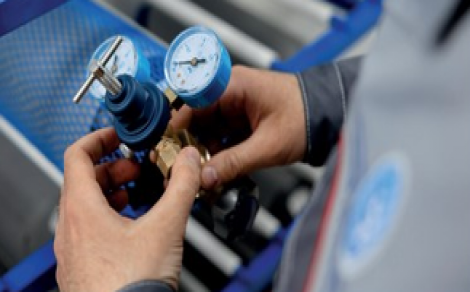 The British Compressed Air Society (BCAS) has announced the first candidate to be enrolled on the new Compressed Air and Vacuum Technician (CAVT) apprenticeship. Owen Webb (pictured), from Alton Compressor Services Limited (Alton) in Fareham, began his training to coincide with this year's National Apprenticeship Week and is the first young engineer in the UK to benefit from the scheme.
Webb's training will be delivered by Semester Learning and Development (Semester), also the first provider in the UK to run the apprenticeship. Using its proven online learning platform, Webb can train around his other work commitments. Scott Margison, managing director of Semester, says: "Following conversations with both the BCAS Training and Development Committee as well as the team at Alton, we could see the value that the CAVT apprenticeship would offer – in particular, how it could meet the urgent market requirement to develop specific skills related to compressed and vacuum systems.
"We are therefore proud to be the first training provider to offer the new CAVT apprenticeship and are really looking forward to working with Owen as he progresses through the variety of modules. Our online delivery means that he can work flexibly, and at a pace which fits around his work schedule. Owen will benefit from a dedicated course tutor, alongside individual subject experts and an NVQ assessor."
Enthusiasm
Jordan Sainsbury, managing director at Alton, adds: "Owen started with us in October last year and initially, we were looking at a number of engineering training courses to help with his training and development. However, none of these offered any in-depth insight into the field of pneumatics, or the specifics of our industry. So, when we learnt about the new CAVT apprenticeship, we were really keen to find a provider that would be able to deliver the training. Scott and the team at Semester have been really enthusiastic throughout the process and we are all so proud that Owen will be the first person in the UK to kickstart the scheme."
"Working in a family-run business like ours and managing multiple priorities can make it more difficult to schedule training. The online approach really suits us. Owen can schedule his apprenticeship modules around the daily demands of a busy service and engineering department. We can't wait to see how he progresses."
During the three-year apprenticeship, candidates will learn how to commission compressed air and/or vacuum equipment and their associated systems alongside service and maintenance, fault diagnosis, repair and system optimisation. The course will also include the development of transferrable skills, which can be provided via BCAS training courses including working safely with compressed air and compressed air treatment technology to name a few. The final two years will be more focused on developing the key engineering skills required by the industry, including installation, commissioning, service and repair of compressed air and vacuum systems.
Plugging the skills gap Roy Brooks, technical development officer at BCAS, comments: "We are delighted that Owen will be undertaking the new apprenticeship, helping to plug the skills shortage of qualified engineers. The standard ensures that upon successful completion, the apprentice achieves a national apprenticeship, academic qualifications and may apply for the professional recognition of EngTech with The Society of Operations Engineers. We look forward to seeing how Owen progresses, paving the way for the latest generation of compressed air and vacuum technicians."
To learn more about the CAVT apprenticeship and to view the full occupational standard, visit https://elearning.bcas.org.uk/compressedair-and-vacuum-technician-cavt
To learn more about Alton, visit www.altoncompressorservices.co.uk
https://www.linkedin.com/company/british-compressed-air-society/
---