Uniflex: 50 years on the road to the future
31 March, 2022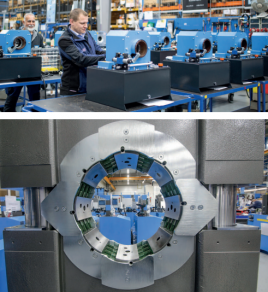 Uniflex-Hydraulik GmbH was founded in Frankfurt in 1972. Over the past five decades, Uniflex has developed into a leading worldwide supplier of hose assemblies – ranging from workshop equipment to the production plant.
The company's hose crimpers, hose cutting machines, perforating devices, skiving machines, embossing devices, test systems, software and cleaning devices are still developed in close cooperation with leading hose assembly prefabricators and users all over the world and distributed globally. Uniflex has branches and subsidiaries in America and Asia and over 85% of its products are exported, for example to leading companies such as Caterpillar.
No mass production
At Uniflex, there are no production lines and there is no mass production. The hose crimpers and all other devices and machines are produced by hand and mostly only to order. Therefore, every crimper is a 'Made in Germany' single product carefully assembled by skilled staff. This makes the production of custom-made products and customised variants a straightforward process.
Slide-bearing technology
Building on the development of lubrication technology 50 years ago, Uniflex has consistently developed and refined its products so that slide-bearing technology has now been in use for over 35 years. Uniflex comments that unlike lubricated crimpers the Uniflex crimpers operate with nearly no friction loss. This, the company points out, reduces the maintenance operations to a minimum, because 'crimping without lubricating' is cleaner and less labourintensive. The machines can also ensure a better CO2 balance.
Up to 20% lower energy consumption
The slide bearing technology can reportedly reduce the loss of crimp force by up to 20% – due to the reduced friction between the moving parts of the machine. The result is an up to 20% lower energy consumption. Another advantage due to lubrication-free operation is the increased cleanliness level during operation for the user, the workplace and the machine. Additionally, Uniflex machines can offer a reliable return on investment and a high level of ergonomics. A comprehensive range of accessories makes operations with the different devices a simple process. Moreover, Uniflex offers a two-year warranty for the functions and materials of all its devices.
Advantages of digitalisation In line with the trend towards greater digitalisation, the company has developed the Uniflex Wireless Management System (UWMS), a further development from its popular Control C.2 system. This complex software can be used to save product data on a server and to consistently update all supplementary data. Via the Internet, users can then upload an app to their smartphone or tablet and subsequently send the crimp order by Bluetooth directly to the hose crimper.
https://www.linkedin.com/company/uniflex-hydraulik-gmbh/
---