Oil running too hot suffers from shortened life
08 March, 2022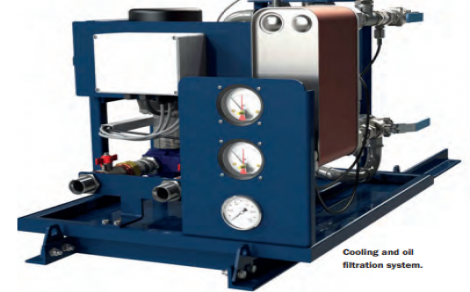 By Richard Price, managing director, Filtertechnik.
Oil in industrial lubrication, gearbox or mobile applications should be kept to 40degC or as close to it as possible to maintain long oil life. Heat, combined with particulate contamination are the two defining factors in oil degradation and machinery breakdown. Oil additive packages degrade when temperature is too hot and an oil's ability to lubricate therefore suffers.
Extending the life of oil Combined oil filtration and cooling systems can extend the life of oil in any By Richard Price, managing director, Filtertechnik. hydraulic, lubrication or transmission system. Filtertechnik has experience of building filtration systems with integrated water or air coolers to keep an assets oil cool. Systems need to be sized appropriately and the availability of cooling water or air coolers needs to be factored in. Either light hydraulic oils or heavy gear oils can be catered for, flow rates, cooling methods and filters can all be selected to ensure a system's oil is maintained at or as close to 40degC as possible.
Real-world examples of oil degrading within 2 weeks before a combined heating and cooling system were fitted have now been extended to 24 months and counting! It is true to say that adding extra filtration at the same time as cooling oil also helps avoid excessive wear on rotating machinery and helps to avoid catastrophic failures.
Arrhenius Rule
According to the Arrhenius Rule: For every 10degC rise in temperature above 40degC, an oils oxidative service life is halved – resulting in more frequent oil drains, more downtime, and more cost (see charts). An additional benefit is the removal of varnish formation. Varnish typically forms when an oil runs too hot, by keeping an oil's operating temperature under control the ability for varnish to form is massively reduced. Filtertechnik has experience of many sized cooling and clean-up rigs, either water-cooled or air-cooled. When also combined with off-line filtration, the overall effect is an oil that lasts longer and an asset that doesn't breakdown due to oil degradation or excessive contamination.
https://twitter.com/FiltertechnikUK
https://www.linkedin.com/company/filtertechnik/
---