Laser distance sensor suitable for permanent outdoor use
22 February, 2022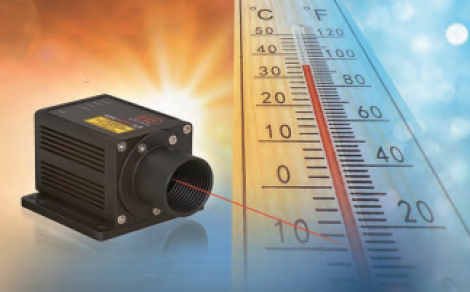 Precision sensor supplier Micro-Epsilon has extended its popular optoNCDT ILR2250-100 range of non-contact laser distance sensors with an integrated heating and cooling version that is suitable for use in ambient temperatures from -40degC up to +65degC, enabling the sensor to be used in permanent outdoor distance measurement applications.
The optoNCDT ILR2250-100-H laser distance sensor is the ideal choice for outdoor measurements over long distances. The sensor not only measures distances up to 150m with an accuracy of < ± 1mm, but also measures accurately on difficult surfaces such as dark, structured or weakly reflecting objects. Without any special adaptations to the target, the sensor has an impressive range up to 100m. Adding a reflector to the target extends the range to 150m. The optoNCDT ILR2250-100 range of laser distance sensors now comprises three models: the ILR2250- 100, ILR2250-100-IO and the ILR2250-100-H.
The ILR2250-100 and ILR2250-100-IO have no integrated heating and cooling element and are suitable for use in ambient temperatures from -10degC to +50degC. The ILR2250-100-IO is a version with IO-Link, a widely used industrial communications networking standard (IEC61131-9) for connecting digital sensors and actuators to industrial fieldbus or Ethernet networks. This enables simple integration and commissioning in industrial automation environments, as well as faster sensor replacement with automated re-parameterisation during operation.
All ILR2250-100 sensors are protected by an IP65 die cast aluminium housing and are suitable for a wide range of applications, both indoor and outdoor, from transport, logistics and conveyor systems, to automation, metal processing, production monitoring and unmanned drones or vehicles. The factory default AUTO measurement mode allows precise and reliable measurements to be made on targets over great distances. Additional modes are also available to tune the sensor to specific application requirements. The sensors have already found uses in monitoring large coil diameters, silo filling levels and gantry cranes. The combined long range and high accuracy of the sensors has also found particular benefits in the measurement and control of diameters for hot ring rolling.
https://www.linkedin.com/company/micro-epsilon-uk-ltd-/
---