IChemE at 100: celebrating a century of achievements, a future of success
06 January, 2022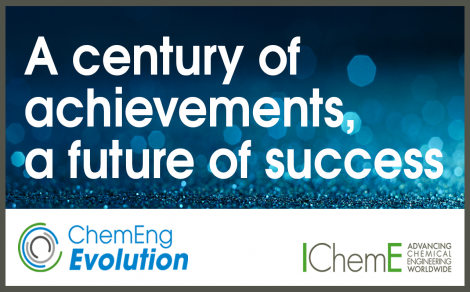 2022 marks the centenary of the Institution of Chemical Engineers (IChemE) with this monumental milestone providing a timely opportunity to celebrate the profession, the achievements of chemical engineers over the last 100 years, and a future of success.
From the Institution's inaugural meeting held at the Hotel Cecil in London on 2 May 1922 to the vibrant membership body of over 30,000 members across the globe today, IChemE has been advancing chemical engineering's contribution for 100 years.
A programme of activities throughout the year will honour the work of chemical engineers, past and present, and will present the innovations being developed to meet the many challenges of the future. This evolution of the chemical engineering profession is why the commemorations have been titled 'ChemEng Evolution'.
To explore the impact that chemical engineering has on modern lives, each month a different theme will be examined. The themes have been selected to highlight and celebrate the enormous contribution that chemical engineering has made to society over the last century.
The programme of activities will include; monthly themed webinar panel discussions with industry and research leaders guiding discussions on the future of the profession and its role in society; a blog series with members discovering areas to celebrate, communicate and inspire from each theme; as well as a series of feature articles in The Chemical Engineer magazine.
A dedicated centenary website hosts a vast collection of articles written by members on topics that range from "COVID-19, an impact on the whole world" to "Message in a plastic bottle – the search for sustainability". Also included on the website are details of the chemical engineers who inspired IChemE's Past Presidents. These range from Margaret Hutchinson Rousseau as nominated by past president Julia Higgins to Trevor Keltz as nominated by past president Ken Rivers.
IChemE president, Jane Cutler, said:
"As the 80th President of IChemE, I am delighted to be leading our historic Institution at this important landmark. The world we live in may have changed significantly since the inaugural meeting in 1922, but one thing has remained constant and that is the commitment of chemical engineers to serve our society.
"I encourage you all to participate in the programme of activities to celebrate our profession. The webinar panel discussions will provide a wonderful forum for debate and conversation, and everyone is invited to participate.
"The centenary is the perfect time to acknowledge the contributions of the many people who have been part of IChemE's 100-year history and who paved the way to make our institution what it is today. I would like to thank our incredible members, volunteers and staff who work together to achieve our aims."
To find out more about IChemE's centenary and the activities planned throughout the year, visit the centenary website: www.chemengevolution.org
https://www.linkedin.com/company/icheme/
.
---