S.S. White rotary shafts activate actuation systems on Pratt & Whitney V2500 turbofan engines
04 January, 2022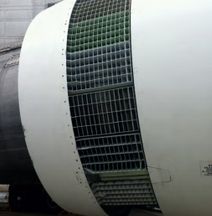 S.S. White Technologies, provider of flexible rotary shafts for the aerospace industry, supplied flexible shafts that transmit power to activate the critical Collins Aerospace Thrust Reverser Actuation Systems (TRAS) on the Pratt & Whitney (IAE) V2500 turbofan engines that just passed 250 million flight hours of service.
S.S. White provided a set of hydraulically activated flexible rotary shafts per IAE V2500 that transfer power and enable safe operation of the Collins Aerospace TRAS during flight and deployment of the TRAS during landing.
Maximum bending flexibility and torsion strength In addition, all aerospace flexible shaft products are designed to one of the industry's highest performance criteria by utilising Perflexion, a computer modelling software program developed by S.S. White. This program allows the design engineers more fully to model the behavioural characteristics of the wire bundles within the shaft core and arrive at an optimum product that provides maximum bending flexibility and torsion strength while allowing minimal torsion deflection with up to a 30% improvement above current industry standards.
S.S. White Technologies is a designer, engineer, manufacturer and tester of a wide variety of flexible shaft products for the aerospace, medical, automotive and industrial markets around the globe. S.S. White Technologies comments that almost all of the commercial and military aircraft platforms in the air today (except Russian), and more than half of US-manufactured cars rely on its flexible shaft products. The company currently has manufacturing facilities in the US, the UK and India.
https://twitter.com/prattandwhitney
https://www.linkedin.com/company/pratt-&-whitney/
---
AIR-TECH EXHIBITION


16 April, 2024, 9:30 - 18 April, 2024, 4:00




Hall 9, the NEC, Birmingham, UK

FLUID POWER & SYSTEMS EXHIBITION


16 April, 2024, 9:30 - 18 April, 2024, 4:00




Hall 9, the NEC, Birmingham, UK