White paper outlines why food and beverage manufacturers should opt for oil-free compressors
04 January, 2022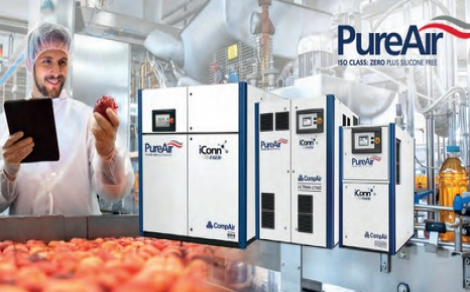 CompAir has published a new white paper for the food and beverage industry, discussing how the right compressed air system can make an important contribution to an organisation's overall sustainability ambitions, as well as help protect the environment.
The white paper considers how oil-free compressor technologies can help secure a competitive advantage for food and drink manufacturers. Unlike compressed air usage in other industries, there are no standards or legislation that define an acceptable minimum purity level for compressed air used in food manufacture. While regulations and codes around the world state that compressed air used in this environment must be contaminantfree and pose no risk, no actual limits are stipulated.
The risk to food and drink from compressed air processes can potentially be significant if the right precautions and preventative measures have not been taken. Moisture, oil and other particles all pose a risk in applications where compressed air is commonly used, such as drying and filtering.
As a result, all food and drinks manufacturers want to take the steps required to ensure their goods meet the highest quality standards. All steps throughout the supply chain – from manufacturing and processing, to packaging, transporting and storing – must be closely scrutinised, and ensuring compressed air purity levels are never compromised should be a top priority for decision makers.
The white paper discusses the main technologies that can help food and beverage companies meet their compressed air needs. This includes water-injected models, two-stage screw compressors, enclosed reciprocating scroll systems, and the latest solutions which use two independent magnetic motors that can drive two compressor stages independently from one another, leading to optimal efficiency levels without the need for any mechanical gears. Plus, with oil-free models rendering additional products such as oil separators obsolete, these systems can help improve energy efficiencies while cutting on-going costs too.
Proactive approach to maintenance
The white paper also outlines the efficiencies that can be gained from digital maintenance platforms, which allow owners and operators to monitor compressed air usage and adopt a proactive approach to maintenance. With this approach, it's possible to avoid unplanned downtime and optimise compressed air processes.
Simon Taylor, oil-free sales manager for UK & Ireland at CompAir, says: "Our latest white paper tackles a big question for many food and drink manufacturers – what measures can be taken to improve our operational efficiencies and reduce costs, which will help to lower our impact on the environment too? Specifying the right compressed air system can play a key role in helping to answer this question. "The white paper explains the standards, regulations and minimum requirements covering the use of compressed air in this sector, as well as the models available to meet this demand. It also covers measures such as heat recovery, which 'captures' waste heat and uses it for other purposes, such as process water or space heating. This can make a big difference to a business' efficiency levels and its bottom line, as well as its impact on the environment. With many organisations facing more and more ambitious green targets, considering the latest compressed air technologies available can help with this need."
To download the free white paper, 'Protecting the environment with oil-free compressed air', visit https://www.compair.com/engb/industries-and-applications/food-andbeverage
https://www.linkedin.com/showcase/oneair-industrial/
---