2021 AEMT Awards winners announced
02 December, 2021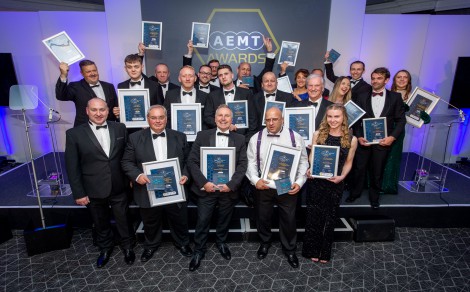 The Winners of the 2021 AEMT Awards were announced during a Gala Presentation Ceremony in Coventry on Thursday 18th November. Attended by some two hundred people from across the electrical and mechanical trades arena, the evening once again proved to be a wonderful evening of reward and celebration. Having been postponed from its original 2020 dateline due the pandemic, there was a great deal of anticipation ahead of the event with all attendees eager to reunite and re-engage with their colleague and peers.
The evening did not disappoint, with many commenting that it was the best event to date. Not only was the atmosphere electric, fuelled no doubt by the excitement of being at a live 'in-person' event, this year's awards programme again attracted some truly excellent entries across the seven categories, with all the Finalists being deemed to be of the highest quality by the independent judging panel.
The Judging Session, which was this year held virtually via a Zoom Meeting, once again employed comprehensive assessment protocols and a supporting 'points scoring system' to determine the Finalists in each category. This process also identified the category Winners, although this information was kept secret until being revealed by the category sponsors during the prestigious Awards Ceremony.
Click here for the full release and details of the winners
https://twitter.com/aemt_updates
https://www.linkedin.com/company/the-association-of-electrical-and-mechanical-trade/
---
AIR-TECH EXHIBITION


16 April, 2024, 9:30 - 18 April, 2024, 4:00




Hall 9, the NEC, Birmingham, UK

FLUID POWER & SYSTEMS EXHIBITION


16 April, 2024, 9:30 - 18 April, 2024, 4:00




Hall 9, the NEC, Birmingham, UK