Sealing system for valve stems
09 November, 2021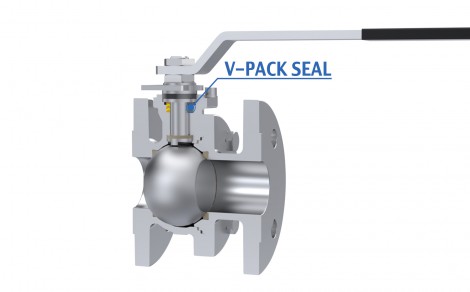 Bonomi (UK) Ltd, has introduced an advanced sealing system for valve stems. V-Pack is a PTFE stem sealing system removing the need for an elastomer (HNBR/EPDM/MFQ, FFKM) O-ring, meaning that the valve is suitable for use with a wide range of chemicals. The result is a single valve, suitable for use in many different applications, without having to consider changing the elastomer O-ring stem seals.
The removal of the elastomer O-ring stem seal also has the benefit of increasing the temperature range (-40degC to 180degC) of the valve. The performance of V-Pack has been Fugitive Emission Tested in accordance with ISO 15848-1, covering the external leakage of stems and body joints of valves intended for use with volatile air pollutants and hazardous fluids.
Tested to SIL3
This new option is available for Bonomi's Valpres range of wafer, wafer-split, and split-body ball valves in carbon steel and stainless steel. Valve seals play a vital role in minimising the release of toxic, hazardous gases/liquids and volatile compounds into the environment. V-Pack has been tested to SIL3 for applications requiring high levels of risk reduction and is Fire Safe certified to ISO 10497.
Jason Hill, sales director, Bonomi (UK) Ltd, says: "V-Pack gives our customers even more options when it comes to selecting the optimal process valve for their application. The V-Pack option now makes a single valve suitable for use with many chemicals, in many applications,"
https://www.linkedin.com/company/bonomi-uk-ltd/
---