Coils for demanding applications in agriculture, forestry and farming
10 August, 2021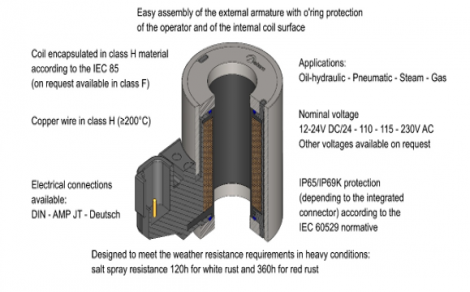 ATAM, provider of encapsulated coils and industrial connections, has introduced a new range of coils, the series 471, 472 and 473. The coils are offered with the 3 different external diameters of 37mm, 45mm and 65mm, and with different electrical connections, DIN, DEUTSCH and AMP JT, to meet several customer requirements.
The family of coils has been designed for use in all applications where very high resistance under highly demanding conditions is required, such as in case of extreme temperatures.
The coils feature an external armature that protects them against physical damage and improves the magnetic flux; IP65/IP69k protection degrees, depending on the electrical connection chosen by the customer; a salt spray resistance for the white rust of 120h and for the red rust of 360h.
The series 471, 472 and 473 coils are encapsulated in a high-quality plastic material with a Class H thermal resistance, in accordance with legislation IEC85.
The technical interaction between the development and the production of encapsulated coils and industrial connections, together with a state-of-theart test lab, allow ATAM to simulate the combined use of the 2 products in every condition, thus allowing the company to offer optimal solutions in terms of reliability, quality and convenience.
https://www.instagram.com/atamspa/
https://www.linkedin.com/company/atam-spa/
---