New row spacing technology – a move towards pure agronomy
21 July, 2021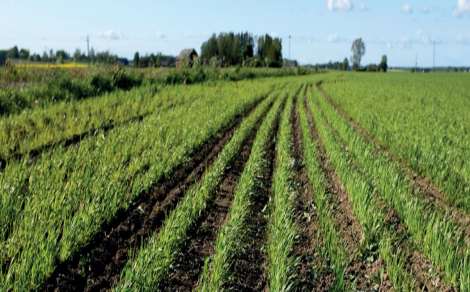 A key to secure productive and sustainable farming, is the placing of seeds at optimal distance from each other. However, most present seeders have fixed row distance and thus have low adaptability for different crops or soil conditions. Now, a recently launched concept called Flexrow has been designed for dynamically adjusting the row spacing in agricultural machines. According to the company, it paves the way for pure agronomy when it comes to row spacing.
A farmer is now able to quickly change between different interrow spacing's simply with a push of a button. The farmer can choose which crop to sow from a display in the tractor and Flexrow sets the desired inter-row spacing automatically. No manual effort is needed.
With Flexrow, the seeder can be designed with longer arms with a more optimal center of gravity during the transport, in order to be able to move faster between different fields. In addition, a simple folding mechanism can be obtained.
Patented hydraulic actuator
The secret of this machine concept is a new kind of patented hydraulic actuator invented by the aircraft company Saab in Linköping, Sweden. The Flexrow concept allows infinite possibilities of configurations and the spacing can be independently adjusted with high precision.
The Flexrow technology is characterised by very long strokes (up to 10 m), cost-effectiveness and compact system solutions with very small volumes of hydraulic oil. Inside the actuator, two connected short hydraulic cylinders, open at both ends 'climbs' on a fixed rod by means of hydraulic clamping connections. In this way, the cylinder can be made to travel along the rod, much like when two hands haul in a rope with a load.
The technology has been successfully tested and meets the requirements. The next step will be to develop full scale seed drills and planters together with industrial partners. The Flexrow concept is a result of a collaboration within the innovation program Agtech 2030.
The collaboration has been conducted between Saab Ventures, The Rural Economy and Agricultural Societies (Hushållningssällskapet), Linköping University, Landberg Solutions and GN Tech. The hydraulic research division (FLUMES) at Linköping University has been instrumental for this work.
---
AIR-TECH EXHIBITION


16 April, 2024, 9:30 - 18 April, 2024, 4:00




Hall 9, the NEC, Birmingham, UK

FLUID POWER & SYSTEMS EXHIBITION


16 April, 2024, 9:30 - 18 April, 2024, 4:00




Hall 9, the NEC, Birmingham, UK