Next-generation portable dew point measurement
15 July, 2021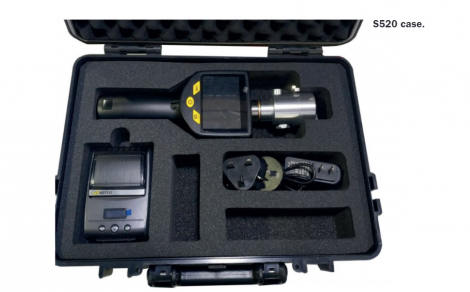 The new version of the S520 smart handheld dew point meter from Measure Monitor Control delivers high measurement speeds through its dual sensor design, integrated pressure sensor and smart features.
The meter offers the user predictions of the final measured value in terms of dew point and ISO 8573 purity class throughout the measurement cycle. This enables the user immediately to determine if the reading will be within the expected parameters or not. The -100 +20 deg C TD dual sensor already proven in other Suto models now means there is no need to swap sensor modules for different measuring ranges and the sensor is easily exchangeable for calibration purposes.
As part of the smart feature suite, the S520 has gained a 5 Megapixel camera and screenshot capability for adding further details to reports based on the integral data logger. The touchscreen display shows the current and predicted dew point, humidity, pressure, temperature and current, predicted and target ISO 8573 purity class. Due to the inclusion of the pressure sensor, the humidity can be displayed in any appropriate units.
Optional with the S520 are the smart features and a Bluetooth printer. Also available is a more economical unit with -50 +50 deg C TD range without pressure sensor for where very low dew point measurement is not needed.
Dew point prediction
The S520 offers what Measure Monitor Control claims to be a unique dew point end value prediction algorithm as a built-in technology.
Based on the dew point measurement curve, the device's algorithm is able to predict the end value before actually reaching the end value. According to Measure Monitor Control, this feature enables the user to predict the dew point end value in a minimum amount of time. It helps on-site engineers to save time and to perform faster dew point audits.
Dew point end value prediction is a part of the smart features. With the smart features option, users also get a 5 Megapixel camera and the snapshot function for quick measurement logging.
Benefits
Measures dew point, temperature and pressure in one device
Sensor selection according to your needs:
100 ... +20 deg C Td with pressure sensor as standard version
50 ... +50 deg C Td without pressure sensor as economic version
Easy to use, but powerful performance
Optional smart features: End value prediction, camera and measurement snapshot
Wireless printer for on-site reporting, perfect for audits
Measuring chamber with parking function as standard included
https://twitter.com/mmc_reddragon
https://www.linkedin.com/company/measure-monitor-control/
---