Back mixing technology increases sludge throughout
13 July, 2021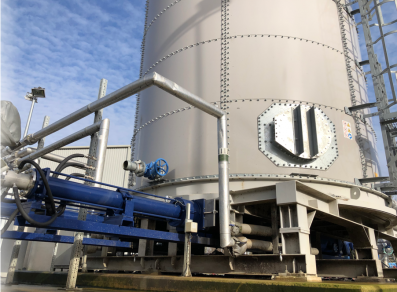 SEEPEX's custom made 5m long pumps installed under existing silo.
Anglian Water is the largest water company in England and Wales by geographic area, supplying water and recycling services to over six million domestic customers, processing over 142,000 tonnes of dry solid sewage sludge in 2020-21 to generate 115GWh of bioenergy.
The Cotton Valley Sludge Treatment Centre (STC) is one of Anglian Water's ten main STCs where sludge is dewatered and treated anaerobically to produce bioenergy. In 2008 an advanced digestion Thermal Hydrolysis Process (THP) was commissioned to speed up the anaerobic digestion process. As part of an upgrade a sludge handling facility was designed to handle approx. 160 tonne a day of imported dewatered sludge from satellite works.
Progressive cavity (PC) pumps (not Seepex) were installed to back mix the dewatered sludge and pump it into the THP. The two pumps were costing overall circa £100,000 per annum due to rotors and stators change every 3-6 months. Their inability to transfer no more than 3.5m3/h (bottleneck and limiting gas production) meant the site was not able to meet the design criteria limiting the amount of imported raw cake being handled to only 120 tonne per day. Additionally, prior to maintenance, the silo had to be emptied to allow the pumps to be worked on, but also cake imports from satellite sites had to be diverted whilst work was carried out resulting in substantial logistical costs.
Custom-made
Seepex was asked for a complete turnkey package which included the removal of the company's existing pumps which were installed under a 7m high silo. The new pumps required custom made hoppers which were 5m long to fit under the existing silo and being able to handle 5.5m3/hr of 16% DS sludge, which had been back mixed within the pump from 25% DS and transfer this approx. 60m. Part of the Seepex solution was to offer standardisation of pump size with other sludge treatment centres within Anglian Water resulting in commonality of spare parts.
Flexibility to meet production demands
Prior to the installation of the new pumps, Anglian Water were processing approx. 120 tonne per day of imported sludge cake with both pumps running. With the new pumps installed, the customer is now able to exceed this by 50% (from 120 tonne up to 180 tonne) while maintaining the same footprint and motor size.
www.linkedin.com/company/seepex-uk-ltd
---