PCL merges main website with online product portal
15 April, 2021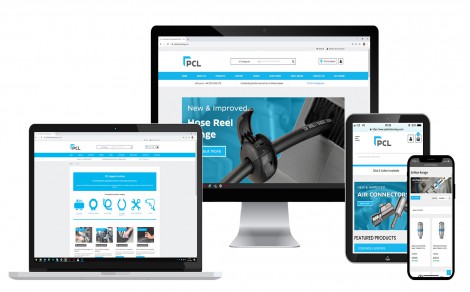 Tyre inflation and pneumatics expert PCL has integrated its e-commerce and distributor portal into the longstanding, providing visitors with a user-friendly, one-stop shop for all product and support services.
Featuring a stylish and easy to read layout, the enhanced website has been updated for convenience and ease of use. Distributors and end users will now have a single point of online access to PCL's products, news, information, account management and order entry services – all in one easy-to-navigate site, containing everything they need to stay well-stocked and up to date. New features include:
Find a dealer – allowing end users to carry out a simple search using their postcode or address to find their nearest distributors
Click & collect – enabling orders to be collected from participating distributors Refined search filters – providing the ability to filter on attributes such as thread size, pressure rating and hose length
Out of stock and low stock warnings
PCL comments that, for partners, the website is an excellent tool to help their businesses run smoothly, enabling them to place orders online and access account information; with the distributor portal also providing exclusive access to PCL content, including promotions, marketing material, training, videos, templates and other downloads.
Alongside this the website acts as an online catalogue of PCL's full portfolio. From couplings and adaptors, hoses and fittings, tyre inflation and nitrogen products, to workshop equipment and air tools – all are featured clearly and concisely, listing features and benefits beside high quality images.
When the distributor portal was first launched as a standalone site, it was quickly given the seal of approval from distributors, who welcomed the facility to place bulk and one-off orders for next day delivery, removing the need for lengthy, time-consuming emails listing each item by part number. The allocation of user dashboards makes returns, re-orders, price and stock checks, and keeping track of orders on UPS and account balances simple. Its integration into the PCL website aims to help partners flourish.
PCL's sales director, Lee Wright, comments: "The merging of our ecommerce site into our main website has required substantial investment and we are very pleased with the results. It meets our brief of providing a convenient and easy to navigate online facility for all our customer requirements. From a partnership point of view, we are always looking for ways to support our distributors and make the ordering system easier. The enhanced provides invaluable and efficient online access to our cutting-edge products, in addition to comprehensive sales and marketing tools for our partners to help their businesses grow."
For more information:
https://www.pclairtechnology.com/
https://twitter.com/pclairtech
https://www.linkedin.com/company/pneumatic-components-ltd/
https://www.facebook.com/PCLairtechnology
---