First Bobcat pressure washer attachment working in Spain
18 March, 2021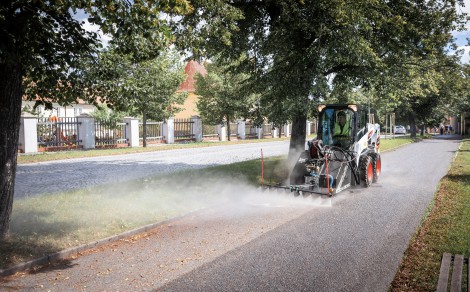 The first Bobcat 250M Pressure Washer attachment in Spain has started working at Altrasan Alquiler de Maquinaria, based in Tui in the province of Pontevedra.
Designed for use on Bobcat compact loaders, the new pressure washer was supplied by Talleres Turquino/Grupo Epromext, the Authorised Dealer for Bobcat in the Galicia region of Spain.
The Altrasan group began business more than 20 years ago and specialises in the rental of machinery in Pontevedra and the north of Portugal, as well as the sale of machinery in both national and international markets. Altrasan is one of the largest purchasers and sellers of machinery in Spain.
Marco Alonso, owner and manager of Altrasan, believes the pressure washer will be a great cleaning tool for urban areas, where there is little room for cleaning tanks to be used. The compact package of the loader and the pressure washer allows for greater manouevrability on the narrow roads and cobbled pavements in these areas, where cleaning needs to be more precise than on smooth surfaces such as asphalt.
The hydraulic power offered by the Bobcat compact loader carrying the attachment guarantees deep cleaning with high pressure water without losing any power, resulting in increased efficiency and productivity.
https://twitter.com/bobcat_emea
https://www.linkedin.com/company/bobcatemea/
https://www.facebook.com/BobcatEMEA
---