Watchlog USB pressure sensor range launched by Hydrotechnik UK
11 March, 2021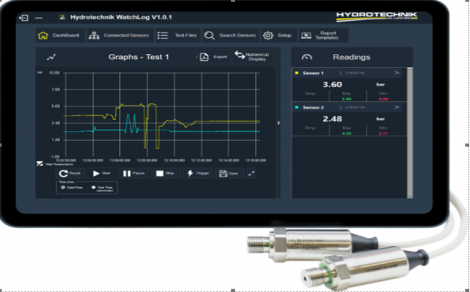 Hydrotechnik UK has launched its new USB Pressure sensor range with additional temperature output under the Watchlog brand name. The USB sensors are for use with their purpose-built monitoring and recording software for Windows, which is supplied free of charge with each sensor.
Watchlog USB joins the growing Watchlog family of Bluetooth and wireless sensor solutions. These are a new generation of USB Sensors that plug directly into any USB port or mulit-ported hub for instant pressure and temperature measurement and recording. Data acquisition speeds are fully adjustable from as fast as 2ms up to every 10s.
At launch, the pressure ranges available from stock are: 0 - 25Bar, 0 - 160Bar, 0 - 400Bar, 0 - 700Bar. More ranges are available on a 4- to 6-week delivery. All sensors also record temperature, although the sensing tip is not directly in contact with the fluid medium, so temperature changes are not as instantaneously measured in comparison to any pressure changes.
Advanced software
Watchlog USB software is plug and play. The software recognises all sensors connected and auto-scales according to the highest value sensor connected. Results are shown both graphically and numerically. The software is designed to be easy to use to view data, record tests, zoom into and pinpoint events. Export data as PDF, CSV files or into customisable report templates.
Main features:
Graphical or numerical display of all connected sensors (Up to 8 connectable at one time)
Min/Max values are retained during each test
Easily zoom into graphs to pinpoint events
Add annotations to graphs
Export tests as PDF or CSV files
Create Report Templates within the software
Name each sensor and select a colour for graphs (this is remembered for the next connection)
Easily set scan rates for dynamic high-speed testing or slower longterm testing.
Set visual alarm levels for each sensor
Easily start/stop tests manually or alternatively: Schedule tests to start/stop (time, day, month)
Advanced graph smoothing features to eliminate noisy or bouncy data
All tests are stored on the software for viewing or manipulation later.
Large tests can be split into smaller discreet files if required whilst maintaining the original test data
Watchlog USB is available now.
Periodic updates will be posted on the Hydrotechnik.co.uk website where necessary.
www.hydrotechnik.co.uk/watchlog
https://twitter.com/HydrotechnikUK
https://www.linkedin.com/company/hydrotechnik-uk-limited/
https://www.facebook.com/Hydrotechnik-UK-230349327046535/
---