Rietschle introduces its latest oil-lubricated rotary vane pump
09 February, 2021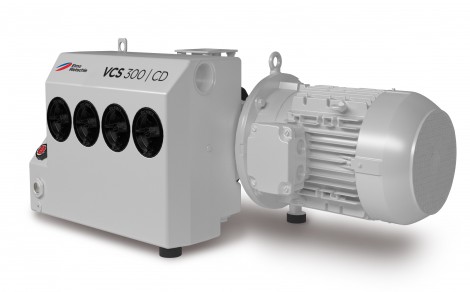 Elmo Rietschle, the vacuum pump brand, has launched its latest oil-lubricated rotary vane pump, the V-VCS. The technology's new design is claimed to offer operators an extremely low total cost of ownership, while its weight, noise and size reductions ensure the system is easily adaptable and can be retrofitted to a wide range of OEM machines. Rotary vane vacuum pumps are used in a range of applications and industries, including: aeration, drying and dust extraction systems in the environmental engineering sector; bottling, filling, cutting and vacuum packaging machines in the food processing industry; drying and dust extraction systems, industrial furnaces and vacuum hold down in industrial plants; centralised vacuum systems and packaging machines in the packaging industry; dust extraction systems and vacuum hold down in the woodworking industry; and pneumatic conveying in a wide range of sectors.
Superseding Elmo Rietschle's V-VC202 and V-VC303 pumps, the new V-VCS solutions deliver volume flow capacities ranging from 200 to 360 m3/hr, and ultimate vacuum of 0.5 mbar (abs).
Quietness advantage
According to Elmo Rietschle, the new offering is the quietest vacuum pump available on the market, with a noise output as low as 67 dB(A); ideally suited for environments where workforces might be working nearby and eliminating the need for the vacuum pump to be housed in a separate area due to noise levels.
Elmo Rietschle's V-VCS has been designed to reduce maintenance needs, cutting the associated time and cost owners need to spend maintaining their vacuum pumps. For instance, the new V-VCS technology has less filter requirements than its predecessor, and yet there is no drop in the system's oil particulate removal capabilities.
As a result, the pump requires considerably less maintenance than other leading competitor models, saving operators money and time in the process. The V-VCS' reduced oil consumption also makes the system one of the eco-friendliest oil-lubricated solutions available on the market. For plants with ambitious sustainability targets, the improved eco performance of the V-VCS means it can play a vital role in contributing towards an organisation's green endeavours.
Low weight
Other key benefits include a low weight, with a reduction of 45kg compared to its predecessors, which makes it suitable for OEMs seeking a low-weight vacuum solution.
The system also generates less heat, operating at a lower running temperature, and the size of the unit has been reduced too, ensuring units take up less floor space than previous models. The new technology is covered by Elmo Rietschle's Care3 warranty, which offers an extended three years of cover. Available free of charge, Care3's eligibility criteria is a simple and straight-forward process, such as ensuring an installation is approved by an authorised Elmo Rietschle representative or certified distributor, and that genuine Elmo Rietschle parts and lubricants are used during servicing throughout the pump's lifetime.
---
AIR-TECH EXHIBITION


16 April, 2024, 9:30 - 18 April, 2024, 4:00




Hall 9, the NEC, Birmingham, UK

FLUID POWER & SYSTEMS EXHIBITION


16 April, 2024, 9:30 - 18 April, 2024, 4:00




Hall 9, the NEC, Birmingham, UK