Growth plans for Delta-Xero filtration system
15 January, 2021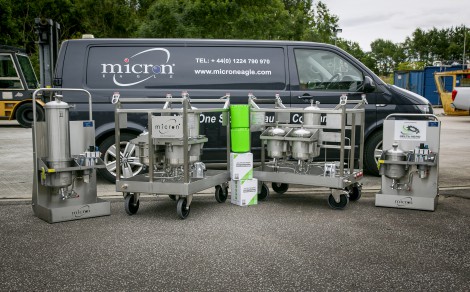 A patented fluid decontamination system that provides significant cost, time-saving and environmental benefits has passed a total of 500,000 operating hours. Launched last year, the Delta-Xero conditioning unit protects and improves the reliability and performance of hydraulic, lubrication and diesel systems.
This development is claimed to improve efficiency by removing particulate contaminants down to 0.1 micron as well as free and dissolved water. More than that, the unit reduces and mitigates against varnish build up in many systems. For diesel systems it can reduce emissions and improve efficiency by removing particulates, and bacteria.
Delta-Xero provides greater environmental benefits than comparable solutions on the market. It does so by super cleaning either the oil or diesel to cleaner than new, thereby greatly reducing the need to change fluids in hydraulic and lubrication systems, and providing a cleaner and more efficient burn in diesel engines.
Reducing equipment downtime
Mark Burnett, business development director, said: "Delta-Xero presents huge opportunities for companies to improve the performance of equipment and maximise fluid and component life. The innovation plays a central role in reducing equipment downtime. It surpasses traditional industry standards for fluid cleanliness and provides a greater return on investment. "The Delta-Xero system delivers fluid decontamination that exceeds traditionally accepted levels. We are delighted with the market's reaction to our solution."
Micron Eagle Hydraulics, based at Blackburn near Aberdeen, is a shareholder of Hampshire-based Delta Xero. The Delta-Xero conditioning system is an offline (kidney loop) unit which continually circulates the reservoir/tank fluid, removing contamination to super clean the operating medium which in turn reabsorbs contamination from the operating system. This allows the fluid to become an asset rather than a consumable. For diesel systems the reduction in emissions and greater efficiency secure both environmental and commercial benefits. Screen-type filters have historically been the 'go to' option for filtration and still have their place. Delta-Xero, due to its compact design, can be easily fitted to either an existing or new application.
Delta-Xero is configurable from 1 to 12 cartridges, electric or air operated; tray, wall mount or mobile units are available as is safe area or Atex compliant versions. In addition, real-time cleanliness monitoring is an option. Delta-Xero has been targeted at the energy, marine, power generation, wind turbine, transportation, agriculture, mining and manufacturing sectors.
Micron Eagle Hydraulics was established in 1990 by Andreas Nagel, who is now the company's Chairman. Micron Eagle supplies, services and repairs the majority of hydraulic power transmission equipment solutions such as pumps, motors, valves and ancillary components. The company recently announced a distributor agreement with multinational Danfoss in the power solutions arena.
Component and equipment repair, full overhauls, system fault finding and upgrades, new component and complete system supply and installation as well as equipment rental all form part of its offering to the market. Micron Eagle also has a base in Houston, USA. Delta-Xero's HQ is in Fareham, near Portsmouth.
For information, please visit - https://delta-xero.com/
https://www.linkedin.com/company/delta-xero-ltd/
---