Lanxess rebrands Anderol
06 January, 2021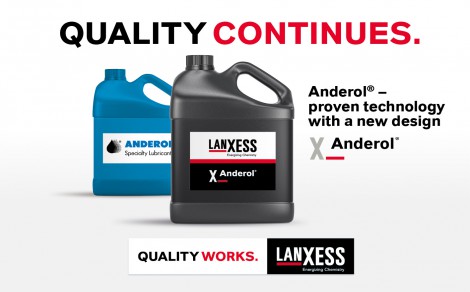 Anderol, the synthetic specialty lubricants product line from the Lubricant Additives Business Unit (LAB) is rebranding in line with Lanxess' corporate design. Anderol BV, the European producer of Anderol products, is a wholly owned subsidiary of specialty chemicals company Lanxess, a globally independent solutions provider for the lubricants market across the full value chain.
Anderol products will now be receiving a new corporate design, including new product packaging and website redesign. The new product packaging will be phased in gradually with the old and new packaging co-existing for a short period of time. The X expresses the affiliation to Lanxess and stands for energizing chemistry. Being a part of Lanxess and its Lubricant Additives Business is further energizing the values that Anderol has stood for 80 years: quality, technical expertise, flexibility and proximity to the customer.
New opportunities
"Lanxess' global set-up, its proficient technical competence centres as well as its extensive product portfolio are creating exciting new opportunities for Anderol to the benefit of our valued customers," says Tom Kleinschmidt, business director at Anderol B.V. "Lanxess is derived from the French word 'lancer', which means 'to move forward', and 'success' – both values that the Anderol product line stands for. Lubricant Additives' global reach and technical capabilities help to further energize Anderol to the benefit of our customers to whom we stay true with our high product quality, flexibility, deep understanding of technical application and our proximity to the customer."
The Anderol product line consists of high-performance synthetic lubricants formulated specifically for industrial and foodgrade applications. Anderol fluids support lubrication needs in applications such as compressor and vacuum pumps, heavy duty gears and bearings, hydraulic and chains as well as H1 plant lubrication for the food, animal feed and pharmaceutical industries.
According to the company, Anderol products provide significant performance advantages versus mineral oil. They are claimed to reduce maintenance cost by extending drain intervals, decreasing deposits, enhancing water separation and providing superior film strength especially in applications with extreme conditions, such as high temperatures, heavy duty applications, oxidation resistance, extreme-pressure or refrigeration. Anderol products are sold in more than 50 countries worldwide and are manufactured in Europe Belgium), North America (USA) and Asia (China).
https://twitter.com/anderolbv https://www.linkedin.com/company/anderol/
---