Stress Engineering Services wins top commendation for technical package
04 January, 2021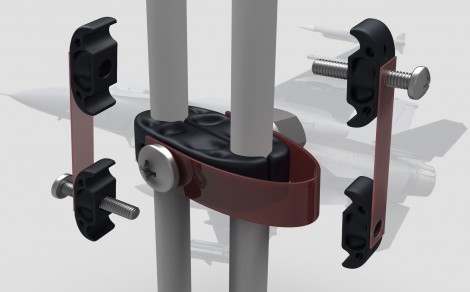 Stress Engineering Services, Inc. (SES), the consulting engineering services and solutions, in collaboration with engineering software company, nTopology and the open additive manufacturing firm Origin, has been awarded first prize by the U.S. Air Force (USAF) for its work in designing, analysing, testing and manufacturing a multi-material hydraulic tube clamp for an F-16 aircraft.
The USAF Rapid Sustainment Office's (RSO) Advanced Manufacturing Olympics was held October 20-23, 2020 and the Approval Sprints Technical Challenge was one of five challenges that aimed to push the boundaries of additive manufacturing and reverse engineering. The first-place prize was awarded to the SES/nTopology/Origin team after they rapidly iterated on a design for additive manufacturing (DfAM) for a replacement candidate for the failure-prone C3175-9J clamp employed on the F-16 aircraft.
Highly skilled management
The team exhibited highly skilled management of complex dimensional accuracy, stresses/loads, flammability compliance, low and high temperature ratings, fuel and fluid exposure and vibration tolerance to devise a polymer additively manufactured replacement solution. In just three weeks, the team performed more than 100 tests on 400 parts, developing more than 30 separate designs, conducted advanced analysis, full-scale testing and final part production, through 100% virtual collaboration.
The tube clamp submitted by the team exhibited twice the load bearing capacity as the original design, designed on nTopology software, using Loctite 3955, a flame-retardant chemically resistant material from Henkel, and manufactured on the Origin One 3D printer, and validated by SES using its advanced rapid digital qualification process.
Dr. Kenneth Bhalla, chief technology officer, SES, commented, "We are proud of the innovative methods and technologies our team showcased in exploring beyond the frontiers of additive manufacturing and earning a strong USAF endorsement of our technical capabilities. We were able to deliver a final printed F-16 hydraulic line clamp, a technical data package and an accelerated qualification strategy for full approval of proposed materials, machines and a complete family of components, while collaborating and innovating digitally across multiple offices and practices."
Matthew Sanders, SES AMO team lead, said, "Rigorous verification and validation methods will always be required when new and advanced additive manufacturing processes, materials, and designs enter an industry. We are honored that the USAF recognized this technical package as being a revolutionary contribution to the advanced manufacturing sector."
https://www.linkedin.com/company/stress-engineering-services/ https://twitter.com/stresseng
---