Abdex joins SIR
09 December, 2020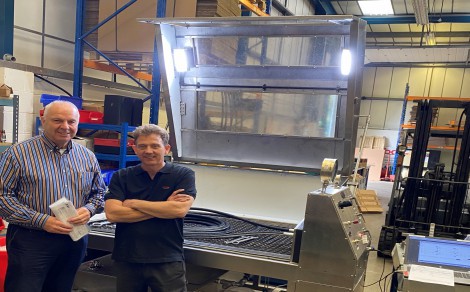 Abdex Hose and Couplings Ltd has joined Stichting Industriële Reiniging [Industrial Cleaning Foundation] (SIR), the organisation dedicated to promoting and regulating safe working in industrial cleaning situations in applications within the Netherlands and Belgium. SIR serves as an example of how effective self-regulation can be as regards safety in a particular sector.
Stefan Gunter, Abdex's sales director, explained the reasons for wanting to join the SIR membership: "For many years Abdex has been selling product into Europe and we wanted to secure SIR certification in order to further enhance our strong portfolio. Abdex is fully certified by Parker Polyflex for HP and UHP up to 4000 bar working pressure. The company is also a member of the BFPA and the WJA, however the team recognised the importance of SIR in the European marketplace."
Abdex first came across SIR at the IFAT exhibition held in 2018 in German, after which Gunter visited Suzanne van Mil, coordinator Working Groups at SIR, during a road trip across Europe. Gunter and other members of his team then met SIR ex-president Jan Braber during the workshop certification at the company's production facility in Milton Keynes in September.
Continuous improvement, standardisation and training
As a new member, Abdex has signed the Declaration of Intent. "Standardisation, certification and safety is very important to us," says Gunter. "Abdex will always supply our customers with 100% safe and tested hose assemblies/products. Continuous improvement, standardisation and training will ensure that the industry and those supplying it will remain a safe one. Abdex, with the help of SIR, Parker Polyflex, the contractors, the jetters and everyone in the industry can further 'raise the bar' and standards to make the industry more efficient and most importantly safer."
Abdex's core business is HP and UHP Parker Polyflex hose assemblies up to 4000 bar working pressure. Abdex also offers 'A-Jet' Sewer jetting hose, Abdex 'A-Blast' waterjetting/waterblast hose, HP and UHP valves and instrumentation, 100% testing, hose re-testing, Abdex 'A-Track' asset management, Uniflex hose crimping machines and Abdex 'A-Test' HP and UHP test rigs. All hoses are are delivered next-day from large stocks. Many of Abdex's product ranges go hand in hand with SIR and its members.
Gunter explains that the Abdex production team will be testing and working to strict regulations (including additional exacting controls) every day. "Our equipment and procedures ensures the safey of our employees," he says. "Stringent procedures at Abdex means our customers can be assured of the product quality and safey of every hose assembly supplied by Abdex. Abdex customers all over the world can be secure they are recieving a fully certified, 100% tested, 100% safe, asset managed and fully traceably hose assembly/product."
Image caption: Jan Braber, ex-president of SIR (left); and Mark Sammons, Abdex's production manager, at Abdex's facility in Milton Keynes last year.
---