Freudenberg expands engineering services
21 October, 2020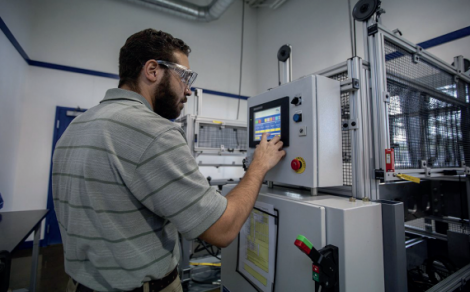 Freudenberg Sealing Technologies is constantly pursuing ways to provide its customers with enhanced product quality and better service. To that end, the company has opened a dedicated engineering service centre in North America as part of its global radial shaft seal operations. The centre, located at the company's Ashland, NH oil seal facility, offers global customers access to advanced testing protocols and validation measures that can save them time and money.
The 3100-sq-ft Ashland service centre, first conceptualised in 2016, has been equipped with state-of-the-art test rigs and other equipment that can track everything from pressure, temperature, frictional torque and speed capabilities to changes in mechanical properties, characterisation of tribological system interactions, leak detection and failure analysis in seals and sealing components.
Freudenberg also offers these services to radial shaft seal customers through its Engineering Service Centre in Weinheim, Germany. That centre, at 16,200 sq ft, is one of the largest testing centres in the world and houses over 260 test rigs.
With radial shaft seals in use in seemingly unlimited industrial applications – from tiny seals for use in micro actuators to massive designs for ship engines – Freudenberg's engineering service centers are a one-stop-shop for often complex and expensive sealing system testing and validation efforts. The company's decision to take an Ashland centre from concept to reality was prompted by a rapid growth in North American customer requests for sophisticated validation and performance analysis.
Handling customer service
requests from any region "While Freudenberg Sealing Technologies has long offered testing as an option to our customers, establishing a separate, dedicated engineering service unit takes product testing capabilities to a new level of sophistication and access," said Marcel Santos, global director of business development engineering services. "We can run 24 hours a day and have already developed and invested in the newest testing equipment available. Now, with engineering centres in both North America and Europe, we can handle customer service requests from any region."
With access to such diverse and individualised testing through Freudenberg, many customers are deferring or even cancelling the purchase and operation of their own test rigs, Santos noted. In addition, customers using large or difficult-to-install seal applications have found it easier, faster and less costly to request that Freudenberg manage their product testing. For example, the Ashland centre recently completed performance and durability testing on engine seals that are used on 15-ton marine engines.
Fast results
"We are able to run the tailored tests that our customers need, when they need them, providing fast results and offering guidance on the right solutions," said Dr. Matthias Adler, head of global material development & global engineering services for the oil seals industry. "And as the largest oil seal distributor in the world, Freudenberg Sealing Technologies has access to plenty of product and application data points that can be referenced during testing to offer a deep analysis of product capabilities for our customers."
---