UK companies benefit from swift turnaround of off-the-shelf accumulators
15 October, 2020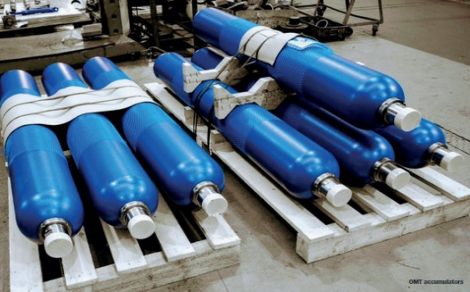 Accumulators are vital to the safe and efficient running of a hydraulic cylinder. They improve the longevity of the system and avoid the potentially dangerous stoppages or leaks that could be associated with a failing pump.
Apex Hydraulics is the official UK distributor for Italian hydraulic accumulator manufacturer OMT. Apex has introduced a wide selection of ready-to-order accumulators that can be delivered the same or next working day. OMT was chosen for the quality and reliability of its accumulators, which are manufactured from durable chrome molybdenum steel, with high quality 316 stainless steel gas valves. The accumulators come ready sandblast treated and primed with RAL 5005, though they can also be coated with any additional paints, in order to conform with a client's requirements. Accumulators from 1 to 50 litres are held in stock, ready for immediate dispatch.
Recent success stories
Two different companies have recently benefited from the quick turnaround available on these top quality OMT cylinders. A plastic moulding factory has been working with Apex Hydraulics for a number of years; benefitting from a variety of time- and money-saving solutions for its factory machinery. On this occasion, the factory manager required six 50 litre hydraulic accumulators. He put the order in at 4pm and the accumulators were received at 11am the next morning. These new accumulators have reportedly been so effective that they have produced an increase in the pace of the machinery by seven seconds for every cycle. This resulted in a substantial increase in production, with the accumulators paying for themselves within a week.
A steel casting factory needed to strip and repair all its hydraulic accumulators as part of its routine maintenance programme to comply with health and safety. Due to the expense of a full assessment and replacement of parts on the old accumulators, it was more time efficient and cost effective to purchase new. The factory required a total of 11 accumulators of different sizes. Many were available in stock for next-day delivery, with the remainder being ordered in and arriving soon after. The factory manager was pleased with the swift delivery and the factory's own engineers were able to fit the new accumulators themselves. This required very little downtime.
As accumulators are highly pressurised containers, most recycling facilities will not take them unless they have first been properly discharged. Apex Hydraulics is also able to safely decommission and recycle any used hydraulic accumulators – a useful turnkey service when old accumulators are being replaced with efficient new ones.
---